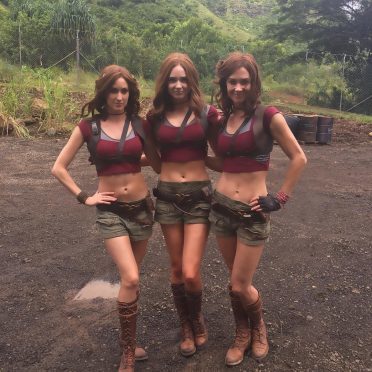 You wait ages for one, then three come along at once.
Inverness film star Karen Gillan posted a picture of herself flanked by two lookalike stunt doubles on the set of her new blockbuster Jumanji.
Miss Gillan, 28, is filming the movie – a sequel to the 1995 hit film of the same name – in Hawaii with Dwayne "The Rock" Johnson and funny man Jack Black. The photograph was captioned: "Three Marthas ready to kick some ass in the jungle."
The latest picture posted by Miss Gillan showed off the enviable results of her sessions with a personal trainer ahead of shooting the action-packed, £125million movie.
But not all pictures from the set have been so warmly received, with fans criticising Miss Gillan's outfit of a crop top and shorts after a cast image was released last month.
However, co-star Johnson claimed there was an explanation, stating: "Her jungle wardrobe will make sense when you know the plot. Trust me ;)"
The film is a follow-up to the 1995 Jumanji, which starred the late Robin Williams and centred around a magical board game.
Little is known about the new movie plot and the role of Miss Gillan's character, Ruby Roundhouse, but fans will regularly be kept entertained on social media by the cast.
Miss Gillan was born and raised in Inverness.
The star is well known for the role of Amy Pond, companion to the 11th Doctor, in the popular BBC series Doctor Who, and her role of Nebula in hit movie Guardians of the Galaxy.