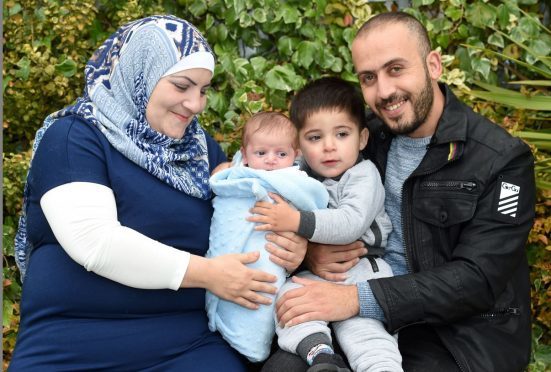 Nearly 70 refugees from war-torn Syria are due to be settled in Aberdeen by the end of the year.
The local authority has committed to taking a total of 100 Syrian citizens from refugee camps in neighbouring countries in the Middle East.
And a new council report says that 67 should have been resettled by the end of the year.
Earlier this month, the Press and Journal revealed that one refugee couple had already celebrated the arrival of their baby boy in Aberdeen – making him the first birth in the north-east.
Khalid and Fadila Al Hussein and their two-year-old son Shadea welcomed baby Ibrahim to the world.
Former TV repair man Mr Al Hussein, 27, met his 25-year-old wife, who is from Aleppo, through family before they started a life in his home city Damascus. They now live in the centre of Aberdeen with their young sons.
In a report updating councillors about the resettlement scheme, the infrastructure committee are told: "We now have 47 'Syrian New Scots' living in Aberdeen – 30 individuals who arrived in March, and 15 in September.
"Last month also saw the arrival of the first baby boy to be born in the north-east of Scotland to Syrian New Scots parents, followed very closely by our first baby girl, bringing the total of Syrian New Scots now living in Aberdeen to 47.
"A further two families will be arriving this month and next which will bring the total of Syrian New Scots resettled in Aberdeen to 57.
"By the end of the year, we should have resettled 67 Syrian new Scots and will, therefore, be two thirds of the way towards meeting our commitment to resettle 100 individuals. All adults are learning English and the children are in education."
Council deputy leader Marie Boulton said the new arrivals were "settling in well" and were increasingly seeing the north-east as their new home.
She said: "The ones who we have here have settled in really well and are happy to live here.
"I do think it's important that they're integrated into our society and way of life but there don't seem to have been any problems so far.
"I know that Aberdeen is in a tough economic place at the moment but these people's lives were at risk and it was important for us to offer a place of safety and refuge."