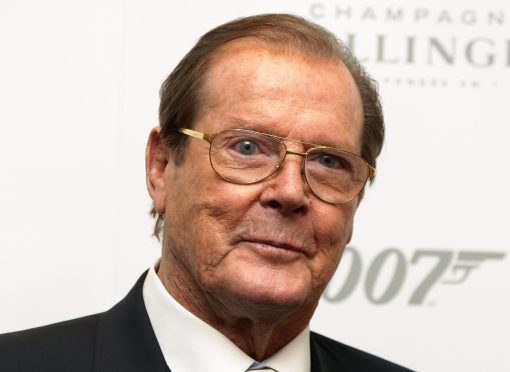 As James Bond he regularly faced evil villains.
Now Sir Roger Moore has a new enemy in sight – the international football organisation FIFA.
The Man With The Golden Gun has blasted the organisation for banning Scotland and England footballers from wearing poppies at next week's World Cup qualifier at Wembley.
The match takes place on Friday, November 11 – Armistice Day – a day when poppies, a symbol of remembrance, are traditionally worn.
Sir Roger, who is appearing at His Majesty's Theatre in Aberdeen on November 24 said: "I'm incensed about England and Scotland not being allowed to wear the poppy.
"I think it's an absolute thundering disgrace."
A campaign to overturn the ban by Fifa on international footballers wearing poppies during matches has already been backed by almost 200,000 people.
It had been hoped players would wear commemorative shirts but according to the world governing body, teams may not display political, religious or commercial symbols on their kit.
The Scottish and English Football Associations have been in talks with Fifa for weeks about repeating an agreement reached in 2011, when England, Scotland and Wales played with specially-created armbands.
Sir Roger, 89, has links to the Army which stretch back more than 70 years.
As a teenager, the rising film and movie star put his blossoming career on hold to do his National Service during which he rose to the rank of Captain in the Army.
When asked if he was a big supporter of Forces charities he said: "Absolutely. We can sleep in our beds at night thanks to our boys in blue, brown and grey."
Speaking of FIFA's decision, which has sparked outrage amongst veterans, he said: "The present president and past president are Swiss. Never been to war – 400 years of being neutral. Don't tell me they know anything about it.
"I'll be in terrible trouble when I go back to Switzerland. My home is in Monaco so I'm not in trouble here."
The bone fide Hollywood legend aims to shake things up again when he visits Aberdeen later this month when he'll be joined on the stage of His Majesty's theatre by his biographer, Gareth Owen, to discuss his extraordinary life and career.
"We talk about my early life in the first half and if I've forgotten anything he reminds me and I look on absolutely spellbound because I've forgotten it, whereas he knows exactly what I did, even what time I went to the bathroom.
"I'm looking forward to it as Aberdeen is one part of the world I've never been to before. I don't have any Scottish connections but I do know Sean Connery – he's a very nice man."