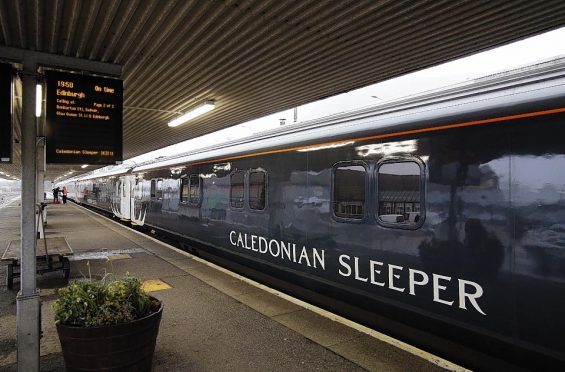 "I never thought I'd be living on the banks of the River Spey, catching salmon and being a bee farmer," chuckles Tony Harris, who runs Spey Valley Honey from his farm house near Fochabers in Moray. It's certainly a world away from his previous career.
Mr Harris left the police in Liverpool in 2001 after 21 years' service. He moved to Moray in 2005 and began working as a security guard at Baxters' food factory in Fochabers.
One night while he was on patrol, he had a eureka moment. He decided to turn his decade-long hobby of beekeeping into a full-time job.
Three years ago, he turned pro and now has around 150 hives dotted along the Moray coast.
"It sounds like a lot, but there's one person in Scotland with 3,000 hives," Mr Harris explains.
"I caught what they call 'bee fever'. The profession is called 'bee farming', so I'm a 'bee farmer'.
"It's not too bad turning a hobby into a job so I never complain about it. It's hard work, but whenever I'm struggling I think back to those 12-hour shifts at Baxters and that stops me complaining."
Mr Harris sells most of his honey through local farm shops, delicatessens and from his farm gate. Now, breakfasters further afield are tucking into his produce too after he began supplying the Caledonian Sleeper, which runs train services each night between Aberdeen, Fort William and Inverness and London's Euston station.
"I tell everybody about it," laughs Mr Harris. "My local honey isn't pasteurised, unlike a lot of imported honey. Pasteurisation gives you a longer shelf-life but it strips out a lot of the flavour."
Mr Harris is one of the producers in the North of Scotland that supplies Dingwall-based food manufacturer RSF Scotland, the company that has revolutionised the meals on the Caledonian Sleeper.
The firm supplies the ready meals that are served to customers on the trains and makes them using fresh ingredients from throughout the Highlands.
"Bee farmers are a friendly lot," says Mr Harris. "My bee farmer friend in Dumfries used to supply RSF. He had a bad year two years ago and because RSF wanted local honey he asked if I could supply them.
"I'm selling half a tonne a year to RSF – in a good year, my bees will produce two tonnes of honey. It's not like jam – you can't just go and make more, you've got to wait for the bees to do it."
North of Dingwall, Ruaridh Stone's Highland Fine Cheeses in Tain is producing cheese boards on which customers can nibble as they speed through the British countryside at night. Mr Stone praises RSF for bringing together a menu that features so many items from the North of Scotland.
He says that similar attempts in the past to assemble a collection of food from the North Highlands hadn't worked because there wasn't enough diversity.
"There's a belief that we can produce very good food in the North Highlands but, once you part the heather and the gorse and take a closer look, you'll find a lot of bakery items and smoked things," he muses.
"There are some very inventive and creative people, but there's not as wide a choice. So RSF was set a tough task because it's a very rural environment and sparsely populated.
"It makes tiny little minnows like Highland Fine Cheeses appear as if we're up there at the top table of high heid yins in food production when really if you look at us on a UK-scale then we're completely Mickey Mouse. Many artisan food producers are in it for the lifestyle and not the commercial reality."
Highland Fine Cheeses turns over around £1.5million a year and employs the equivalent of 16 full-time staff. The company has been run by the Stone family since 1951, with Ruaridh having taken over the business in 1994.
"You can emphasise regionality very well with beef and lamb and with seafood, but when you get down to the nitty-gritty it gets a lot tougher to present it at an affordable rate," he adds.
"It's a bigger task for RSF than meets the eye."
Mr Stone sells whole cheeses to RSF, which then uses the knife skills of its chefs to produce the individual portions.
"That's the skill they bring," he adds. "Through sourcing and then handling the products."
Around 90% of the food served on board the Caledonian Sleeper comes from within 50 miles of RSF's kitchen, including haggis from George Cockburn & Sons in Dingwall, lamb from Clunes Farm near Inverness and smoked fish from Wester Ross Smoked Salmon.
"We're delighted that they're promoting our name on their menu," says Gilpin Bradley, one of the directors at Wester Ross Fisheries, the company behind the fish brand. "We always prefer to work with customers that emphasise the provenance of the food.
"We sell our salmon all over the world and it's just as important for us to sell a lot locally as to sell a lot globally. We like to sell as much as we can in the Highlands and if it's on a mode of transport as they're travelling to the Highlands then all the better."
The company was founded in 1977 by Robin Bradley and Alan Mann, with three of the original employees – Mr Bradley alongside Colin Milne and David Robinson – coming together to buy the business when its original owners retired in 2006. Production has since doubled, with 75% of sales coming from exports, and the firm now runs three seawater sites in Loch Kannaird, Loch Broom and Little Loch Broom, as well as a freshwater smolt rearing unit at Elphin in Sutherland.
Mr Bradley explains that the company is the largest private-sector employer in Ullapool, with revenues of more than £10million a year and around 60 staff. That employment is spread wider than the west coast though, with the company running a processing unit in Dingwall and an administration office at Auldearn, near Nairn.
"We're the only independent, indigenously-owned salmon farm company in Scotland," adds Mr Bradley. "A lot of the customers we work with enjoy the fact they can talk about the salmon with the owner of the business – that's a strong sales point for us.
"Our labour input is six-times greater than any other farmer because we do things by hand. Our customers appreciate that and pay us a premium because we're doing things differently – they taste a different product at the end of the day."
Both Highland Fine Cheeses and Wester Ross Salmon were recruited to supply RSF through their connections with Quintin and Michelle Stevens who run The Storehouse, the popular restaurant and shop at Foulis Ferry on the shore of the Cromarty Firth. The Stevens setup RSF in 2014 with hospitality entrepreneur Ian Richards and his wife, Sabine.
"We came together based on a love of the produce that we have in this part of the world and a belief that it's better than most places," explains Mr Richards. "We wanted to develop a business around that belief, so our business is based on a strong provenance story and a sustainability angle, making sure the ingredients that we bring in are produced in a responsible way.
"We're also into 'wellbeing', which may sound like a nebulous concept, but it means we're interested in the wellbeing of the planet, the wellbeing of the livestock and the wellbeing of our customers by not adding artificial flavours or preservatives. It's about food cooked by hand in our kitchens and then frozen to keep it fresh rather than doing anything unpleasant to it to keep it preserved."
RSF began talking to Serco about supplying the Caledonian Sleeper service in the summer of 2014, just weeks after the London-listed outsourcing giant had won the contract to run the train service from incumbent FirstGroup. Serco took over the routes in April 2015.
"The Caledonian Sleeper was our very first customer," Mr Richards says. "Quintin and I had been working in the Highlands for around 15 years and had developed a range of contacts, one of which introduced us to Serco."
RSF, which employs around 12 people, has gone on to win clients in the food services sector and customers for which it carries out contract manufacturing. It has also developed its own range of frozen ready meals under the Highland Cookhouse brand – which it launched in January and which are available from farm shops and delicatessens throughout Scotland – and it is busy developing more meals for the Caledonian Sleeper for when its new trains are introduced in April 2018.
"There's only so much that you can do when you've only got two microwaves on board," admits Ryan Flaherty, guest experience director at Caledonian Sleeper. "The new trains will have a full galley, with conventional ovens and a toaster.
"We'll be able to do things like make the bacon crispy. I can't wait to be able to have a soft-boiled egg with toasted soldiers on the train."