Big animals are my passion, especially polar bears," says Doug, who Sir David Attenborough describes as one of the toughest in the business.
"They are big, sexy and charismatic and most people would give their eye teeth to get close to one."
Doug Allan is one of the world's best-known wildlife photographers and cameramen. A former research diver, he cut his teeth as a pearl fisherman on the River Spey. This month he'll head to the north of Scotland once more to give two talks, one in Macduff, the other in Inverness.
"What I really enjoy is getting intimate contact with big animals because they are exciting. It's easy to get excited when you come face to face with a big gorilla, an elephant, a manta ray, whale or polar bear.
"It's the mammals that make the experience special because they have personalities which make them that bit more exciting and challenging to get close to. With polar bears, for example, there are no trees in the Arctic to hide behind, so if you want to get close to one there are certain ways you have to behave, carry yourself, angle the camera and so on.
"They live on the sea ice and can see as well as you can, which makes for some pretty challenging locations. They can see you and the camera so you need to employ different skills to get close to them," said Doug.
While he's spent years filming his beloved polar bears in all sorts of wild and freezing conditions, there's one aspect of their lives he's yet to see for himelf.
"They are highly intelligent animals and there's always a chance of seeing something new. There are some behaviours I know they do but I've never seen it myself. That is scavenging a reindeer or catching a whale, which they're quite capable of…
"They sit on the ice then jump on the back of the whale and haul it out of the water. I've seen dead whales on the ice that have been hauled out by the bears, but just never seen it for myself – yet."
Born in Dunfermline, Doug spent seven years in Antarctica as a research diver, scientist and photographer for the British Antarctic Survey, before changing direction to full time freelance filming in 1983.
Since then his name has become synonymous with natural history, expedition and science documentaries in some of the wildest and most remote places on our planet, particularly the polar zones.
Sir David Attenborough described him as one of the toughest in the business, while Doug has a huge amount of time for Sir David and producer Mike Salisbury and says they had great respect for each other and never sought fame.
"I've never known programmes where there were less egos at the top," said Doug.
During his filming career, which stretches back more than 35 years, he's worked for BBC, Discovery, National Geographic and many others, filming for series such as The Blue Planet, Planet Earth, Frozen Planet, Ocean Giants, Operation Iceberg, Wild Cameramen at Work, and most recently for Brian Cox and his Forces of Nature on BBC1.
Among the hoard of awards he possess are eight Emmys, four BAFTAs, three Honorary Doctorates in recognition of his camerawork, as well as two Polar Medals. But what may come as a surprise to many is that he has had no involvement with Planet Earth II, the new TV series narrated by Attenborough and currently wowing audiences. That's because Doug, author of the best-selling book, Freeze Frame – A Wildlife Cameraman's Adventures on Ice, is taking a slightly different direction in life and urging people to go to war on climate change.
CALL TO ARMS
"It's an old-fashioned term but I'm on a moral crusade for climate change. As you get older you become aware there are injustices in the world in a way you didn't think of at other stages in your life," said Doug, who at 65 says he has no plans to retire.
"I feel duty bound to talk about the changes that are taking place because it's only through talking about them that people become aware of them.
"There's still a place for big TV shows because they do make people aware of the world, but sometimes you need to come closer to home."
Looking back over his life Doug said he felt he'd enjoyed "a very good run" working on blue chip programmes such as The Blue Planet but now feels compelled to take this slightly different route.
"I wanted to try something different and focus more on conservation work. I've always done different types of films about science, expeditions and so on and enjoyed the variety, but while doing these I kept an eye on other issues such as those the planet is facing. The biggest issue is climate change. There needs to be a change in how we get our energy, such as having most of it come from solar power instead of fossil fuels.
"If we are determined to develop renewables then we need to change our attitude and have a more war-like mentality where people put up with change, perhaps experience a lowering of standards temporarily, in order for it to succeed.
"Everybody should be taking more responsibility for the planet. If people really understood the planet and what we're doing to her, they'd be telling Governments to look after it and taking an interest in the big picture.
"Climate change is going to change our world dramatically for the worse in the next 30-50 years if we don't do something about it now."
During his talks in Macduff and Inverness, Doug will touch on these subjects, but his talks will also be fun and inspirational.
"The aquarium in Macduff is a good place to speak about threats to the seas, but I want to make people aware and give them something to think about so they can perhaps take up the cause and help make the world a better place."
An Evening with Doug Allan takes place on Friday, November 25 at Macduff Marine Aquarium, High Shore, Macduff and starts at 6.30pm. Entitled Freeze Frame – life behind the lens of a wildlife cameraman, during this family-friendly talk visitors can hear Doug tell stories of his adventures filming in some of the wildest places on earth.
Find out what it's like to swim with whales underwater; how to get up close and personal with polar bears without being eaten, and discover the hardest thing about living for months in a colony of penguins. Visitors also have a chance to see the aquarium, including an exclusive look behind-the-scenes. Tickets are priced £7.50-£15.
Contact: www.eventbrite.co or the aquarium on 01261 833369.
Doug is also one of the speakers on the Royal Scottish Geographical Society (RSGS) and Tiso Inspiring People programme. He'll give a talk entitled Oceans At The Crossroads at The Highland Council Chamber, Glenurquhart Road, Inverness on Monday, December 5.
The talk is free for RSGS members and £10 for non-members. Holders of the Tiso Outdoor Experience card will also receive special offers for entrance to Inspiring People talks.
Up-and-coming RSGS /Tiso talks in Aberdeen include Exploration in Print: Armchair Travels of a Map Curator with Philip Hatfield at New King's, University of Aberdeen, on Monday, November 28. All RSGS talks start at 7.30pm.
For tickets visit www.rsgs.org or call 01738 455050.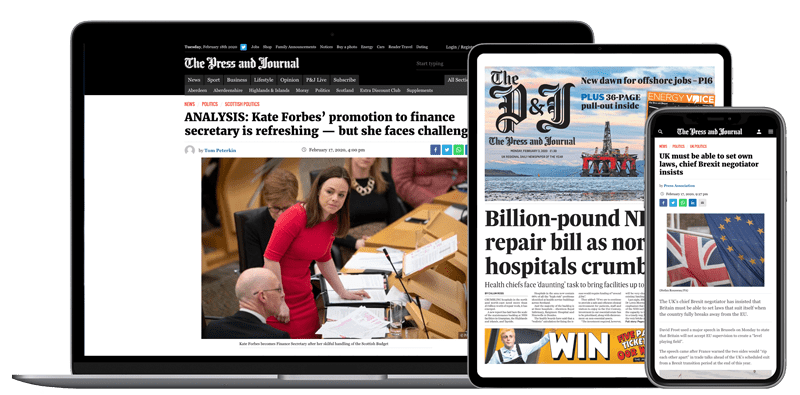 Help support quality local journalism … become a digital subscriber to The Press and Journal
For as little as £5.99 a month you can access all of our content, including Premium articles.
Subscribe