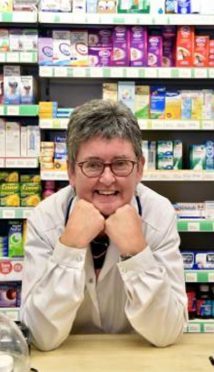 Joanne Warnock (People, with pics)
She started working at Charles Michie's pharmacy in Laurencekirk as a young 16-year-old trainee in 1976.
And four decades later, Carole Clark is still dispensing pearls of wisdom in her 'stop-gap' role.
This week, the north-east stalwart was surprised by her work colleagues with an impromptu tea party.
And, looking back on her one and only post, she reflected: "I left school when I was 16 and applied for a trainee job here. I thought at the time that I would just go for it, but it was only supposed to be a stop-gap until I figured out what I wanted to do.
"I didn't think I would still be here 40 years later on though. "
Expecting another run of the mill day, Ms Clark said: "I wasn't really looking forward to coming in today, but I certainly wasn't expecting anything like this!"
Over the years, she has seen massive changes in working conditions and joked: "I remember when all the doctors used to work from home and when we used to have an outside toilet!"
Matthew Hamilton, pharmacist and shop manager paid a warm tribute to her, saying: "Carole is very much part of the community and is very, very well known in the local area and so well respected.
"For me, working with her, it is not just about the working relationship. It's incredible to work with someone who is so connected.
"It means that the service we are able to give to the area is far superior. She even goes off in her own time making deliveries to the locals.
"She does a lot extra and goes over and above. It is a pleasure working with her."
A member of the Michie family, Sue Gordon, presented Mrs Clark with flowers and chocolates this week and also discussed the details of a dinner for her with some former colleagues.
Ms Gordon said: "Carole is the longest serving member of staff we have apart from Charles Michie himself! She is certainly now part and parcel of this community. A lot of our employees have been with us for over twenty years."
Former colleague, Janet Buxton, who worked as a pharmacist in the Laurencekirk branch for 37 years until her retirement in 2013, added: "I couldn't have done the job for so long without Carole working beside me; we were such a great team."
Ms Clark, who comes from nearby Fordoun, has not had to struggle with a long daily commute as she explained: "I haven't had to travel far. I was three miles away from Fordoun to begin with and now I live three doors up from the shop!
"I can easily nip home at lunchtime and hang out my washing."
It sounds like it has been the perfect prescription, both for her and her employers.