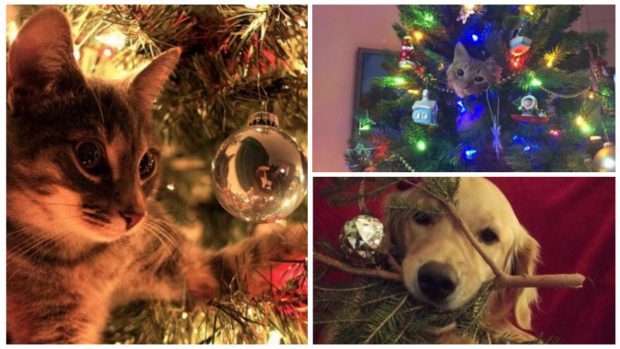 All animal owners know the feeling of spending hours perfectly decorating their home for Christmas, then having it promptly destroyed by their pet.
If this has happened to you this year, we're here to make you feel better about it by showing you that everyone else is suffering too.
Let's begin with the arch enemy of the Christmas tree, the cat.
Well that didn't last long. One Christmas tree on the ground and one very scared cat. ??#sighpic.twitter.com/JfHttPVkvQ

— Maddie Gardner (@Maddie_Gardner) 4 December 2016
???????????? 2nd Advent … enjoy ?? https://t.co/fa2igozp5S

— The Cult Cat (@Elverojaguar) 4 December 2016
@lyft_CHI this was my Thanksgiving fun, trying to set up the Christmas tree with a cat ?pic.twitter.com/YEA5aDBl2k

— Emily (@WCRecessionista) 29 November 2016
They may be pesky, but these moggies do look pretty cute.
YALL MY CAT CLIMBED UP OUR CHRISTMAS TREE pic.twitter.com/nONlTXeuIz

— stargirk (@sydneyinak) 27 November 2016
Clarence reports that he accidentally finds himself in the Christmas tree several times a day. pic.twitter.com/YJuMH2uwLc

— Cat Food Breath (@CatFoodBreath) 6 December 2016
A Christmas tree decoration
Yours sincerely,
Cat#FreePresentsToGive pic.twitter.com/eZpbjTGvT9

— CatClick (@catclick) 6 December 2016
Beans accidentally found herself inside the Christmas tree, and then many of the ornaments accidentally found their way to the floor. pic.twitter.com/6i6r1WIBWO

— Cat Food Breath (@CatFoodBreath) 5 December 2016
Before you go blaming cats for all the carnage, dogs have been caught at it too…
If you have a real Christmas tree, be careful of the needles. While not poisonous, they are sharp and can cause internal damage to your pet pic.twitter.com/2xrqIeVGlr

— Lifetime Pet Cover (@LPCover) 6 December 2016
Can someone explain to me how my dog got stuck behind the Christmas tree? pic.twitter.com/3XucPzXP7Z

— Katie Kellum (@katie_kellum1) 29 November 2016
Even reptiles are getting in on the festive action.
#trees #lizard #christmastree #marijuana #cannabis Randy likes trees pic.twitter.com/E9exJeGoPI

— CandidChronicle (@candidnewspaper) 7 December 2016