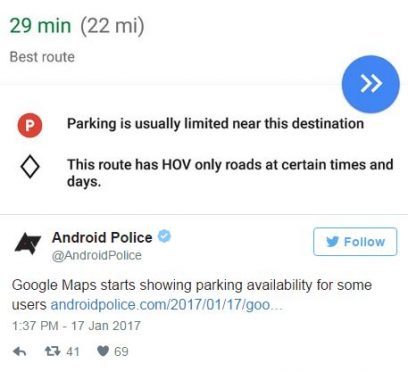 Google Maps is forever looking to make itself more useful as a travel service, from public transport times to traffic warnings – and now it appears to have its sights on making parking easier too.
According to the Android Police website, a recent beta version of the app includes a new feature that displays parking difficulty at the destination alongside journey time and directions.
Screenshots from the beta appear to show a colour-coded system and three tiers of parking availability that advise users on how likely they are to find a space when they arrive – limited, medium and easy.
Limited comes complete with a red warning notice, while medium and easy are both labelled blue.
Once you begin driving or tap on the direction instructions, the feature is able to give more details about any restrictions in place or whether you should expect the area to be busy.
For now, the feature doesn't appear to be showing up for all Google Maps users, and there's no info on if and when it could extend beyond the US.
Many mapping features tend to be robustly tested there first before making the jump to other countries.