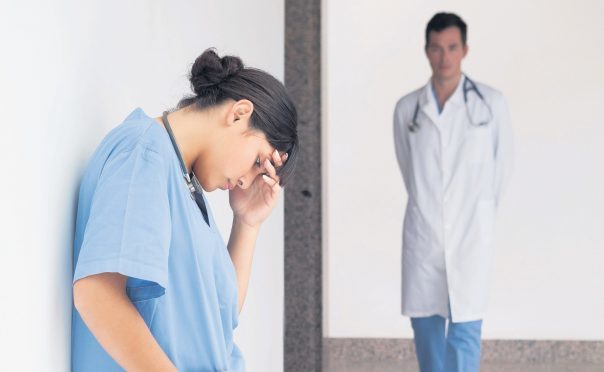 Every day thousands of nurses across the north-east leave their families to care for our loved ones, and are facing what the Red Cross has deemed to be a humanitarian crisis in our health service.
From cancelled operations to a nursing staff crisis, there have long been stark warnings that hospitals are at breaking point.
Indeed the current crisis at Aberdeen Royal Infirmary has led to the health board cancelling 160 operations in the past two months and more cancellations are expected in the coming weeks.
A damning report found that patients were being put at "significant risk" due to staff shortages in the accident and emergency department, and there is a major lack of operating theatre nurses.
For Jane [not her real name] the steady stream of criticism comes as no surprise. She has worked at ARI as a nurse for several years, and believes nursing has changed beyond all recognition.
JANE'S STORY
People always tell me I'm lucky to have a four day working week, but I don't think they have any idea what it actually means to do shift work as a nurse.
Those four days will leave me mentally and physically exhausted, and in the time I have off in between, I have to try and take care of my family.
There is no let up and I can't begin to explain the impact that has on me.
If I start at seven in the morning I won't see my child before she's awake, and she'll be in bed by the time I get back.
I leave the house and know full well I won't get parked, that's the first problem.
Nurses are now catching buses because they've got no other choice.
As soon as I enter the ward there is a hand over, and I barely stop for the rest of my shift.
On a night shift we are lucky to get four staff for say 20 patients.
That might sound like more than enough, but in reality we're severely under-staffed.
If a patient needs turning in the night, we will need two members of staff to help.
That's just impossible if we have even a handful of patients who are very unwell and need a lot of care and attention.
Then we have patients who are demanding and simply don't understand the pressures.
I am verbally abused by patients and their families and I've had to learn to develop an incredibly thick skin.
There are even times when patients lash out. I can't explain what that's like.
Buzzers are going off constantly and there is nothing I can do, I have no choice but to prioritise who is the sickest.
That means patients who need help going to the toilet or feeding themselves are simply left.
I can't keep my eye on everyone, particularly if I'm in the emergency care centre.
The layout means I can't see patients and they can't see me.
Although we've had hand over, conditions can change overnight.
I dread coming onto a night shift because I know there won't be the staff available and there won't be enough doctors.
I spend my time rushing from one patient to the next, but the irony is that nurses no longer get to be hands on.
Come the morning when I fill in a patient's notes, I have to ask the auxiliary staff how the patient is doing.
It's soul destroying and I believe the reason for this is because of paperwork. So much of my time is taken up with filling in paperwork, and that's not why I went into nursing.
I went into this profession because I wanted to care for people, but the system means I don't even know how my own patients are.
The big bosses don't care if you've got no staff, or if you're so exhausted you can't even speak. All they care about is audits.
There are shifts where we will be understaffed but you get through the night because you have no choice.
Bosses then take this as a sign you can cope, so  shift after shift you will find your ward is under staffed.
But come inspection, the right number of nurses will be drafted in by the bosses to keep up appearances.
If you're unwell and need time off, you're given a really hard time about it.
I spend my shift worrying that I've made a mistake, not because I'm not good at my job but because of what I'm up against.
I manage to snatch a break before I'm called away to deal with a patient. But more often than not I'm working 12 hours solid and just grab food when I can, and my shift never finishes on time.
We all end up staying later.
When I go home I'm just thinking about my patients. It's horrible because I haven't been able to give them my time.
I then can't give my family any proper time, I'm constantly trying to just keep everything together.
Nursing was my dream job and even today on TV it's portrayed as a brilliant career.
Nurses used to be respected but patients just abuse us and health chiefs don't care.
Dozens of nurses are quitting and take up agency work or leave the profession altogether.  When people leave they aren't being replaced and that's even more dangerous.
Something has to give because the patients are at risk and we're at risk.
I feel completely broken after every shift. I didn't become a nurse for this.
LAURA'S STORY
Laura [not her real name] is a senior nurse and her typical day is as follows:
I have two young girls (one at school) who are both still asleep when I leave the house at 7am, I battle through the rush hour traffic to get into work, and I then have to fight for a car parking space, due to the redevelopment for the new multi-story.
This particular morning we have 10 staff and nine patients, all of whom need extra care.
I am allocated a patient with a complex illness; my nursing partner next to me is a new member to the unit, only having been there for two months.
He has a patient who is also very sick.
My day starts with personal care. After bed bathing my patient I then have to get help from others to move the patient to get sheet changes. Meanwhile, my partner is washing his patient.
After finishing with mine I have to assist with his patient, again having to get extra staff to help.  That takes us up to breakfast; we have a 20 minute 'complimentary' break, which we have to eat breakfast etc.
I then return and let my partner go for his, looking after two patients while this happens.
The ward round is now in full swing with the doctors making a plan for the day for that patient.  We also get word that a patient has been critically injured and needs a bed.
One patient needs a scan but my nursing partner has never been to scan before.
I have to talk him through what is needed, I voice my concerns to the charge nurse that he has never been but there is no one to go with him. I offer to go instead and take his patient, while he stays with mine, not good practise but more dangerous to let him go without experience.
I administer all my 12pm medications, and am about to go for lunch when the patient's family arrive.
I speak with them as they are deeply upset, and would like an update on her condition since this morning.
Late by 20 minutes for my break, I head for lunch. I grab a quick drink and finish my sandwich, taking 25 minutes instead of 45.
I know it will have a serious knock on effect if I am later going back.
After lunch my patient starts to waken up, she is distressed and requires all my energy to keep her safe.
I shout for help and my partner comes to help.
I am now aware that the scan time is getting closer for the patient in the bed next to me, so I ask to speak to a doctor.  It is unsafe to leave her like that with no experienced nurse to look after the situation if anything goes wrong.
We help her to get back to sleep and I get organised to take the other patient to scan… Meanwhile, potentially another patient could be coming but we have no staff and no discharges.
I am aware that I have spent very little time with my patient's family, so I talk to them for a short while, getting to know them better.
I still haven't completed my paperwork at this point and it's nearly supper time.
I give hand over at 7.45pm  and go through my patient's history and what has happened today.
I say goodbye to the family who have been in and out all day and apologise for not spending much time with them, they understand and comment on how busy I have been.
I sit at the desk and try to complete my documentation for the day, when the charge nurse approaches and asks me if I have had time to do my e-learning module that is outstanding.
I try not to laugh and the look on my face probably tells her all she needs to know.
I leave the unit and get to my car at around 8.40pm; 40 minutes after my shift should have ended.
I phone home to tell my husband to put something on for my dinner, no idea what but anything will do. I get home around 9pm.
Exhausted I have a glass of wine, eat my ready meal dinner and head for a bath. I check in on my girls who I haven't seen since last night, they are sound asleep. I am in bed by 10pm ready to do it all again the next day.
That is what a busy day in the unit is like, some days it's easier, but others it is worse.   If there are more staff than patients we have to help other wards in the hospital.
The morale is low and we are being asked to do more and more developmental learning and portfolio etc, more times than not this has to be done at home.
My home life also suffers with shifts, sometimes I get up at 7am with the girls and that is me until I get home the next morning.
On a dayshift I don't see them for days at a time. My husband works away at the moment so I have to rely on parents to come up and watch them.
We are constantly texted to do extra shifts, overtime etc.
I am deflated with the profession and the only thing stopping me from finding an alternative career is I love my job.  However, if the current situation doesn't change more nurses will leave.
A spokeswoman for NHS Grampian said recruitment for more staff was ongoing, and staff welfare is taken extremely seriously.
"Our staff are our greatest asset and these experiences give us cause for concern.
"We would strongly encourage them to seek support from their manager or staff side rep if they have not done so already.
"We take any act of violence or aggression against our staff very seriously.
"It is never acceptable that anyone is subjected to behaviour which causes them harm.
"We have worked extremely hard to make all staff aware of our reporting system and encourage them to use it, should they be the victim of physical or verbal abuse. "We will support any staff member who wishes to make a complaint to the police concerning individuals who subject them to aggression or violence in the workplace.
"However, it is important not to stigmatise every patient involved in an incident.
"Many incidents are due to the clinical condition of the person.
"We also provide staff training and operational advice and support from specialists.
"In addition, NHS Grampian works closely with Police Scotland, the local authorities and other agencies to ensure a joint approach in the development of safe working practices, information sharing and communication in relation to risk.
"We do face particular challenges around recruitment and retention; the comparatively high cost of living, the availability of suitable and affordable accommodation and more lucrative opportunities in the private sector.
"However, we are actively recruiting to a whole range of posts across the organisation and firmly believe this is an attractive place to work and live."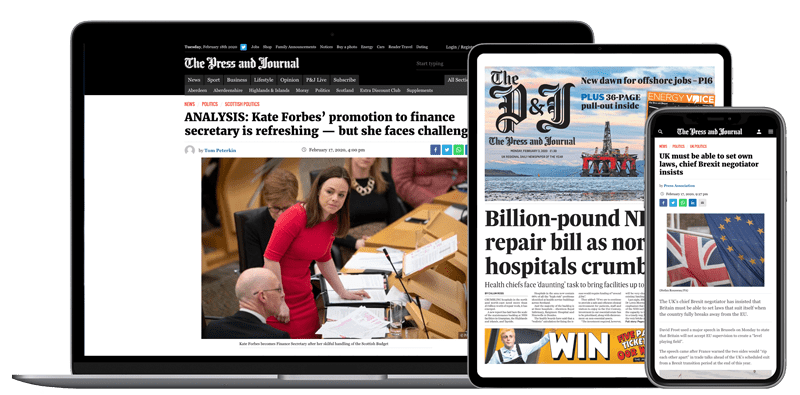 Help support quality local journalism … become a digital subscriber to The Press and Journal
For as little as £5.99 a month you can access all of our content, including Premium articles.
Subscribe