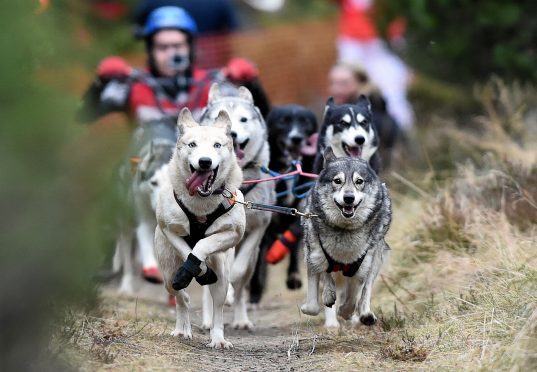 David Kerr
The woods of Glenmore will echo with the sound of pounding husky paws this weekend as the annual sled dog rally returns.
The Aviemore Sled Dog Rally will be held over Saturday and Sunday for its 34th edition.
The race hosts hundreds of dog teams, which charge around the course at Loch Morlich in the trees of the Glenmore Forest Park.
The event regularly draws in large crowds to watch the racing, which is organised by the Siberian Husky Club of Great Britain in partnership with Forestry Commission Scotland.
Brian Duff, of Forest Enterprise Scotland, said: "It's great to welcome the huskies and their owners back to Glenmore for another year.
"It's a fantastic event that makes for a great day out for spectators and competitors.
"We have the sort of terrain and conditions that make for some good, exciting racing so it promises to be an action packed weekend.
"There will also be lots of people out walking our trails but a couple of sections will be used for the racing.
"We want to ensure that walkers, spectators and participants stay safe so we urge everybody coming along to please observe and obey all site signage."
This weekend's event is expected to feature 250 "mushers" ranging in age between eight and 60 with more than 1,000 dogs.
The huskies will race on part of the Loch Morlich Trail to the south of the loch and on sections of the 'Pine Knoll Trail' throughout both days.
The courses range in length between four to seven mile routes.
The Hayfield car park will also be closed to the public over the weekend but all other Forestry Commission car parks in the area will be free of charge.
The rally starts at 9.15am. on both days and will feature racing throughout the day on trails.
In the currently likely event of there being no snow on the course, the dogs will pull wheeled rigs.