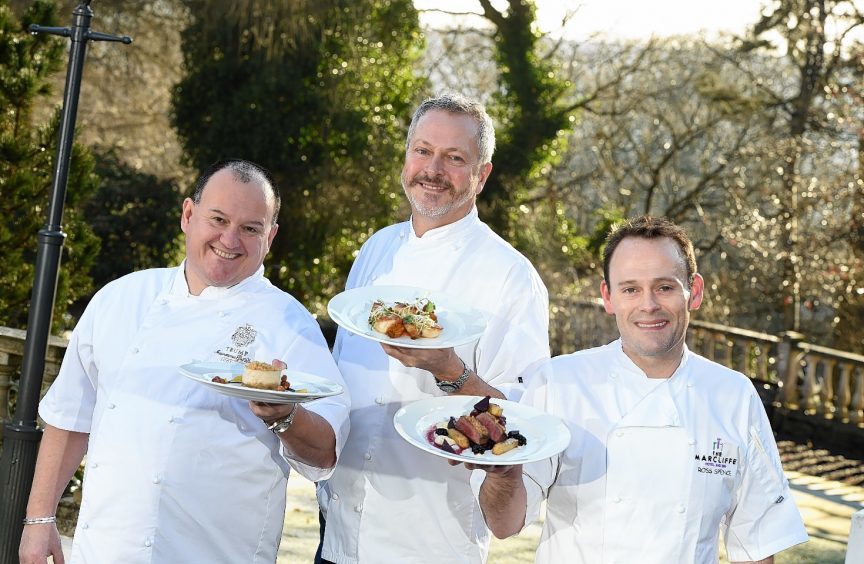 A trio of top chefs will team up to create a gastronomic feast at an Aberdeen charity event.
Nick Nairn, Ross Spence, of The Marcliffe Hotel and Spa, and Paul Whtecross, of Trump International, will each cook a course at Savour, an event being hosted by charity North East Sensory Services (NESS).
The charity supports people of all ages who were born deaf or blind, and those who have lost their sight or hearing.
Ross Spence said he was delighted to be hosting the event.
He added: "It's fantastic to be able to work with Nick and Paul for this event and we will present a superb overall dinner which will thoroughly delight the guests.
"Ness is an important charity in Aberdeen and across the north-east, supporting more and more people with hearing or sight loss, and we are delighted to host this unique evening."
Paul Whitecross said the event would "tantalise the tastebuds" of everyone lucky enough to attend.
Nick Nairn added: "NESS is an excellent charity and it's a wonderful opportunity and a wee challenge to create a feast which excites the senses."
The four-course dinner, focusing on the senses of taste, smell and sight, will take place on Saturday March 4 at the Marcliffe Hotel and Spa.
NESS CEO Graham Findlay said: "We are delighted that these prestigious chefs are taking the time to devise and present a menu for NESS."
The evening will include a champagne drinks reception, a VIP auction and raffle, followed by entertainment and dancing.
Tables priced at £950, with individual tickets available at £95, and can be purchased from neil.skene@nesensoryservices.org or by calling 0345 271 2345.