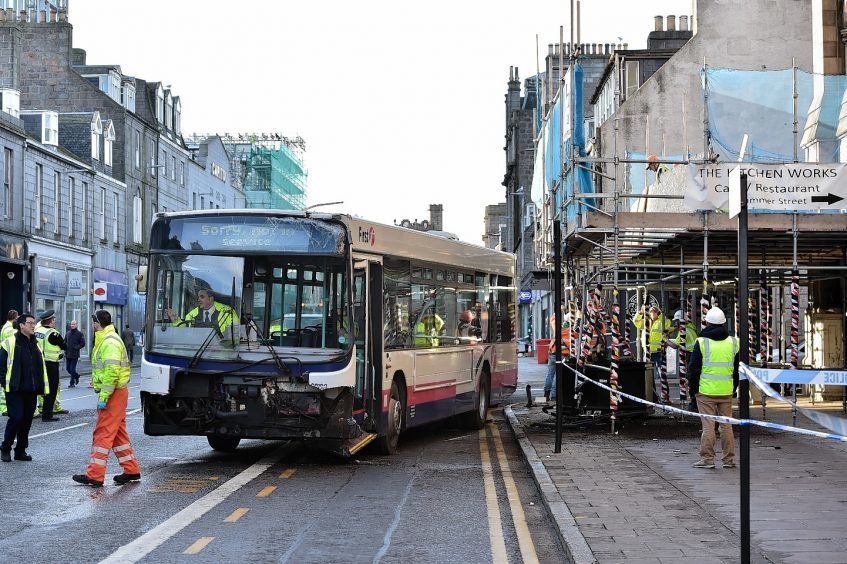 Three people were injured after a bus crashed into scaffolding on Aberdeen's Union Street yesterday.
The incident happened at the junction with Summer Street at 11.40am.
No workers were on the scaffolding at the time but several metal poles were damaged by the impact.
Police said there had been a two-vehicle collision, between the bus and a white Volkswagan, after which the bus had mounted the pavement and hit the scaffold surrounding Gilcomston South Church.
Two ambulances attended and took two patients to Aberdeen Royal Infirmary.
Their injuries were said to be minor.
A third, believed to be the driver of the Volkswagen, was treated at the scene by paramedics but did not need to be taken to hospital.
The bus, which had between 15 and 18 passengers on board at the time of the accident, was evacuated as soon as it was confirmed that the scaffolding was safe.
Union Street remained partially closed for several hours, and motorists were asked to avoid the area if possible.
Two fire engines and a heavy rescue vehicle were also called to assist. A fire service spokeswoman said that fire crews helped to clear the road and make the vehicles safe.
A police spokeswoman said: "We got a call at 11.30am reporting that there had been a collision between a car and a bus and that the bus had mounted the pavement and hit some scaffolding."
The bus was driven away from the scene at around 12.45pm.
A spokesman for First Aberdeen said the company was assisting police with the investigation.
He added: "We can confirm that a car was in collision with one of our vehicles at the junction of Union Street and Summer Street, in Aberdeen.
"As the bus driver took evasive action, his bus then collided with street furniture and scaffolding at the side of the road.
"Our thoughts are with all of those affected by this morning's incident."
John Still, of John Still Steeplejacks, which is carrying out repair work at the church, was also called to the scene to assess the damage to its scaffolding.
He said: "I went down to have a look and it had got quite a dent.
"Some of it had to be taken away and will have to be replaced.
"It has set us back a bit but it could have been a lot worse."