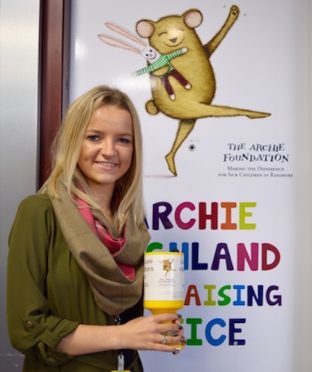 A Highland teenager who has suffered with health problems since she was a baby has organised a fundraising evening to give something back to ARCHIE Highland.
Dawn Cowie, 19, of Helmsdale, had one of her kidneys removed at just nine months old.
She has spent much of her life in hospital at both Royal Aberdeen's Children's Hospital and the former children's unit at Raigmore Hospital.
In 2014 she underwent an anti-reflux operation to prevent her from continually developing infections, which often resulted in her being unable to attend school for long periods of time.
She experienced firsthand the support of ARCHIE Highland – and now works for the charity as a fundraising assistant.
Miss Cowie has spent the last few months organising a Masquerade Ball in her home village to give something back to the charity.
She said: "I started arranging this event back in August – before I actually worked here.
"I wanted to make sure that all money raised would benefit the community in this area.
"The Highland Children's Unit is a fantastic facility which provides advanced care for children in the Highlands as well as also providing accommodation for parents to stay with their children.
"We don't want to stop now just because the unit is built. We want to ensure the unit remains a top class facility and to support all the hard working staff and the patients.
"As someone who has spent a lot of time in hospital I know how important the children's unit is to the whole of the Highlands."
The ball includes an auction, including signed Rangers and Hearts football strips, Belladrum tickets and a two night stay at Ness Castle Lodge.
Laura Mackintosh, head of fundraising for ARCHIE (Highlands and Western Isles) said: "We are delighted that Dawn is organising such a fantastic event for ARCHIE Highland.
"Before working for ARCHIE Highland, Dawn was a keen volunteer and the fact she now continues to volunteer arranging her own fundraising event is just fantastic and I'm sure it will be a great success."
The Masquerade Ball will take place at the Bunillidh Social Club in Helmsdale on Saturday, February 4, at 7pm.