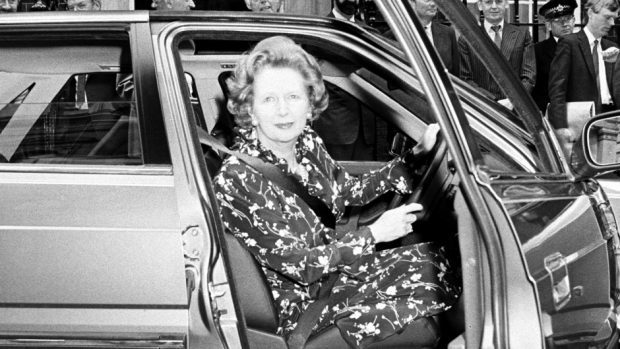 Few people can say they've done the conga with Margaret Thatcher, but Cameron Taylor counts himself lucky to have worked for and partied with The Iron Lady.
From Orkney to No 10 Downing Street, Cameron has now come full circle having returned to the Orkney Islands after working for perhaps the most controversial prime minister in British history.
It has been more than 30 years since his time as a duty clerk within the civil service, but he believes the time he spent working with Mrs Thatcher completely changed the course of his life.
Now chief executive of tourism in Orkney, Cameron can vividly remember the two years he spent working at No 10 and has written a book about his experiences after his family urged him to put his memories down on paper.
Memories such as coping with the aftermath of the Brighton bombing, dealing with heavily armed and very angry Russian guards and seeing The Iron Lady weep.
"I think I wanted to leave something behind for my children, there are so many stories to tell, so I started to piece everything back together," said Cameron.
"It was 10 years in the thinking and only took about three months to write."
Cameron's time at university could never have prepared him for a stint in No 10, but conditioned him to a life very different from home.
"I studied Mediaeval Renaissance history at Aberdeen University. My first job was actually in a fish factory," he said. "Aberdeen was a brilliant experience and is still a place I think of with fondness.
"It was a massive leap to start working for the civil service, it was then that I was placed on a two-year secondment and found myself working in Downing Street.
"My role wasn't political but if anything happened, I was the first point of contact."
It was this element of Cameron's job that he will never forget. He was on duty on the day of the Brighton bombing on October 12, 1984.
The blast tore apart the Brighton Grand Hotel, where members of the cabinet had been staying for the Conservative Party conference. The PM and her husband, Dennis, narrowly escaped injury.
The IRA claimed responsibility for the attack, which killed five people.
"I was in work and kept getting updates, then there came this enormous realisation that I would be the person to open the door once the PM returned home," said Cameron.
"In my head I prepared all sorts of grand speeches right up until the moment she walked in. The only thing I managed to blurt out was 'Welcome home prime minister'.
"It was actually the most apt thing to say in the circumstances, and it fitted perfectly for the title of the book.
"They had survived an assassination attempt which ended some lives and ruined others, and if there was a moment that was to define my own experience of 10 Downing Street, then this was it."
In complete contrast to her steely public persona, Cameron saw a completely different PM behind closed doors.
"Of course Margaret Thatcher had a political persona but she was brilliant to work for," said Cameron.
"She was actually very maternal to a lot of the duty clerks. We were all in our early 20s and still finding our way – London was a world away from Orkney."
He also regularly accompanied Mrs Thatcher overseas.
"I was 23 and part of the delegation when she went to Moscow and ended up facing armed guards who were shouting at me in Russian," he said.
"Seeing as I couldn't speak a word of the language, it was a bit of a hairy situation.
"I don't think I realised how precarious the situation was. I was young and ambitious so it's only when I look back that I realise what happened."
Cameron also visited Beijing, Hong Kong, Egypt, New Delhi and Washington.
"The PM would always have at least one duty clerk with her on her travels. At that time we'd all fly out on an RAF aircraft," said Cameron.
"It was split up into sections so she was in the most comfortable part with senior officials, and journalists would be at the very back. She always made sure everyone was OK though, she was such good fun to travel with and she had this tremendous energy about her."
Cameron's first born, Jamie, who is now 32, was welcomed into 10 Downing Street before Cameron's time as a duty clerk was up.
"He can't remember but that's a pretty novel thing. Margaret had children of her own and was incredibly family orientated," said Cameron.
"Once my stint at No 10 was over, it was time to move on.
"It was a very full on job and I don't think the civil service wanted their staff doing that sort of work for too long. It was exciting but also exhausting. It taught me how to remain incredibly calm in times of crisis and I've carried that with me."
Cameron continued to follow Margaret Thatcher's career and hopes her family will read his memoirs.
"I made a point of not watching the film based on her life; on a personal level the PM was someone I liked and admired," he said.
"Behind the scenes she could be incredibly touched by events, she was a very caring individual. She believed that what she was doing was for the benefit of the greater good.
"There were some moments when she was furious with government ministers and there were a few occasions when I saw her cry – probably tears of sheer frustration.
"It was a bit of a shock to leave No 10 because it had become a way of life.
"On my final day she had a chat with me and we spoke about my experience. It was a very strange moment to hand over my pass, knowing I'd never go through the door of No 10 again.
"My time there encouraged me to take an interest in politics as something that is both living and relevant.
"It is people who make it work.
"Even to this day I remember Margaret Thatcher as an incredibly charming, charismatic, and amusing person and she always threw the best Christmas parties for her staff.
"I was part of a conga with her on more than one occasion! It's those sort of memories that are a constant reminder of a living, breathing history."
Welcome Home, Prime Minister, can be purchased as a Kindle edition on Amazon.