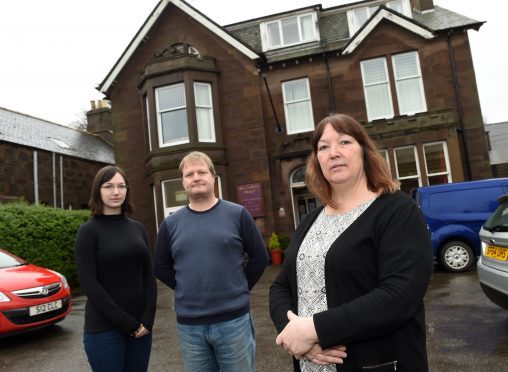 The Belvedere Hotel in Stonehaven was once filled with guests, and the Howarth family were rushed off their feet 365 days of the year.
Husband and wife team Sheila and Mick were busy but happy, having bought the hotel five years ago, and their two children, Nikki and Scott, also pitched in.
Family is at the heart of The Belvedere, which makes the couple's predicament all the more heartbreaking.
Sheila and Mick are desperately trying to save the hotel and its staff in the face ofmajor business rate increases set by the Scottish Government, which will force them to find an extra £2,500 every month.
Following the oil downturn, it's money they simply cannot afford, and they have joined hundreds of businesses acrossAberdeen and Shire in protests against the change.
But with the increase set to go ahead come April, the best Sheila and Mick can hope for is to weather the storm and rely on the possibility of relief aid.
The hotel's 11 rooms were once easily filled without the need to advertise, but the couple are now lucky to achieve an 18%occupancy rate.
Their close knit team of staff have even offered to have their hours cut in a bid to save money, but Sheila cannot face letting anyone go.
"Me and Mick work well together, we've been married for 25 years after we met in Saudi Arabia of all places," said Sheila, 53.
"I was a lab technician and Mick was working for British Aerospace with the Saudi RAF.
"We moved to Stonehaven in 1997because my parents lived here. We had our eye on The Belvedere for quite some time before we finally bought it.
"I remember getting the keys and being terrified, we'd never run a hotel before.
"It took us a few months to actually believe that the hotel was ours, and for the first two years I don't think we took a day off.
"If we don't show that we care then why should our customers care, that has always been our attitude.
"We wanted Belvedere to be a family business and both our children have thrown themselves into it.
"Nikki is 22 now and came home every second weekend from university in Dundee, and our son, Scott, who is 20, comes home and works in the kitchen.
"Our staff are incredibly close, they work together and socialise together. It wasactually our staff who decorated therestaurant and when the boiler broke down, our people still came in even though we were closed, to help with things.
"They've offered to have their hours cut to try and help. I've already cut down hours for our head chef and housekeeper.
"I even have to send my own daughter home because we can't afford to pay staff when we have so few customers."
Sheila and Mick are lucky to dish out five meals on a week night in their bar and restaurant which was previously filled with guests.
It remains popular with locals who have voiced their support, but it's not enough to save the hotel.
"Everybody knows each other in Stonehaven, it takes me half an hour just to walk down the street," said Sheila.
"Locals still come in for a natter and food but it can't solve our occupancy problem.
"Nikki was able to complete her dissertation because all our locals offered to be case studies for her, that's why we're determined to keep our business going.
"We honestly have no idea where we are going to find the extra money though, it's two and a half thousand a month and we also have other costs to consider. We pay £450 for the water rate, £350 in trade waste, and £100 to have all the cooking oil disposed of.
"We lie awake at night thinking and worrying about it all.
"This is a nightmare."
Sheila and Mick have been forced to face the possibility of closing down the accommodation side of their business if bookings don't improve.
"We just don't know what to do anymore, the system is completely flawed and there is no common sense," said Sheila.
"It's a real kick in the teeth and the whole of Stonehaven is suffering.
"The majority of businesses are independently owned. It's hard working families who are getting hit.
"We have no idea how we'll get through this, but we're determined not to lose The Belvedere or our staff.
"This is home to us."
LOW MORALE
For Bert McIntosh, 73, of McIntosh Plant Hire, the changes will mean the family run business will need to pay roughly £1.17million each year which is an increase of 255%.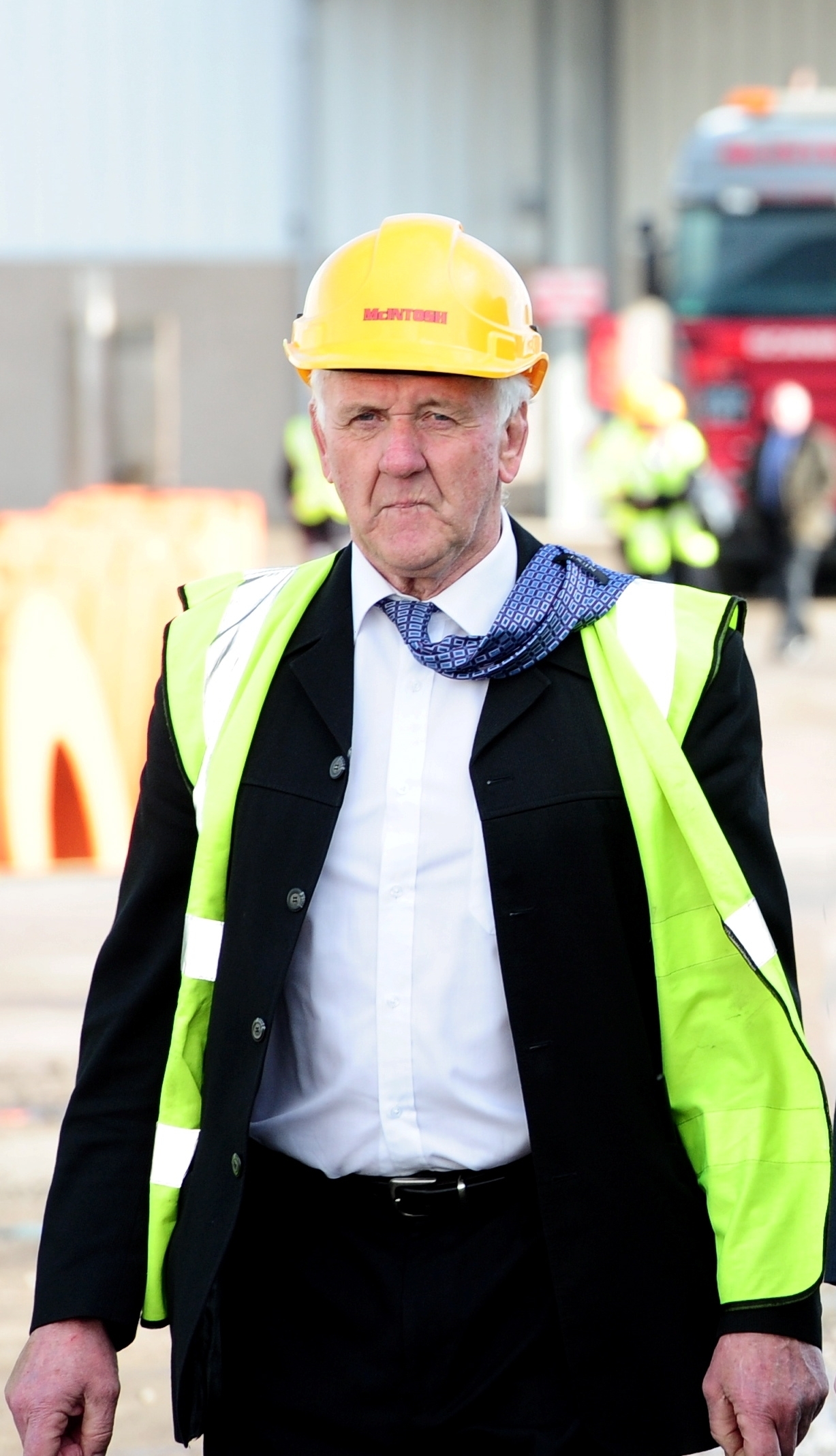 The company currently pays £320,000.
Morale is already low in a firm which once thrived with more than 100 workers. It is run by Bert, who took over from his father in 1976.
He works alongside his wife, Moira, 77 who works in accounts, his son, Gary, 49, who is chief director, and his daughter, Jacqueline, 47, who works in admin.
His grand-daughter Nikki, 25, also works in admin whilst his grandson, Darren, 26, is business manager.
"My dad started off this business with nothing but his Hillman Minx and a trailer with a few tools in the back," said Bert.
"He was de-mobbed from the RAF in 1936 and he was a builder by trade.
"I only found out the other day that he turned up at work and said 'right, that's it lads. As of Monday I'll be running my own business'.
"The company has built most of the dual carriageways in Aberdeen – and family is at the heart of everything we do.
"We've had much valued employees who have been with us 50 years, but it has got to the stage where we won't be replacing people.
"We've also employed apprentices but we've just had to take the decision not to take on another young lad.
"We used to get up in the morning with a spring in our step because we loved what we did, we're a well managed company but now we're having to find an extra £5,800 every week to cover the business rate.
"This already feels like a very dismal year. We'll keep going no matter what but things will never be as they used to. Now we just wonder what we're even working for."
BUSINESS RATES
The business rate increase has been introduced by the Scottish Government and is based on re-evaluation of properties carried out independently when the north-east economy was buoyed by higher oil prices.
Companies are facing crippling increases of as much as 200%, with many warning they will face bankruptcy.
The government has been called on to re-evaluate all north-east firms' rates and provide a cash boost over five years to enable the local authority to provide relief.
Finance minister Derek Mackay has ruled out government intervention however, and instead pledged to work with councils on local relief schemes.
Critics have argued that local authorities simply don't have enough cash to provide appropriate support.
City council chief Jenny Laing has also said that the local authority needs a major boost from central coffers if firms are to stay afloat.
Some Aberdeen firms have been successfully re-evaluated having proven that their circumstances have "materially changed" since the valuations were carried out in 2015.