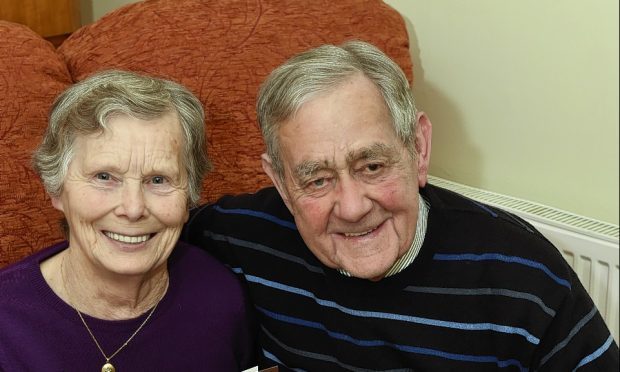 An Aberdeenshire couple have toasted 60 years of marriage – but only after their celebrations were initially held up by a nasty cold.
William and Helen Johnstone honoured their diamond wedding anniversary on December 15 with a family gathering in Ballater.
But soon afterwards, the pair were struck by a bug, which meant the Lumphanan couple only managed to finish their celebrations this week.
Mrs Johnstone, 81, looked back fondly and declared the days since their marriage in 1956 had "flown by".
Prior to the couple tying the knot, she was a cook at Glenkindie House, while Mr Johnstone, now 87, worked in the dairy and on the farm at Candacraig House in Strathdon.
The two met at a dance in Towie, after frequently brushing shoulders at social gatherings in the area for some time.
Mrs Johnstone added: "We caught a terrible cold on Hogmanay and hadn't been well since. We did have a celebration up at Craigendarroch, but afterwards we got ill. It took more than a month to recover.
"I can't believe it, the past 60 years has gone past so quickly. It has just flown by.
"My husband had been working at Strathdon in Candacraig and I was working at Glenkindie.
"We were going to the dances at Towie Hall and Kildrummy and Strathdon, there was a lot of dances at that time.
"It would have been once of the dances at Towie when we met.
"We just went together at the dances and got engaged about a year or so before we got married. I was about 21 and he was about 28."
The couple's wedding took place at Towie Church on December 15, 1956, and they had the reception in Strathdon.
They lived in Candacraig Cottages for about four years after the ceremony, before moving to a house just outside of Lumphanan – where they still live to this day.
The Johnstones have three children – Stephen and Billy Johnstone and Sylvia Hepburn.
Through their offspring, they have a further eight grandchildren and one great-grandchild.
After raising their family, Mrs Johnstone secured a job at Corse House nursing home as a carer – a job which she said she "loved".
For his part, Mr Johnstone worked at Douneside in Tarland, as an estate and forestry worker before getting a job at the Invercannie Waterworks.
He was a keen indoor bowler for decades, the hall keeper in Corse for 36 years and helped out as a gate keeper at the Lonach Gathering for 54 years.
They stated it was a "nice surprise" when they received a card on their anniversary from Her Majesty the Queen.
When asked about the secret to a happy marriage, Mrs Johnstone said: "You just give and take, I would say. We've had our ups and downs, but we've been okay.
"We are enjoying our retirement, we go out in the car quite a lot and go visiting people."
Last week, the Johnstones were handed a bunch of flowers and a 12-year-old malt whisky from Aberdeenshire Council by Aboyne, Upper Deeside and Donside councillor, Peter Argyle.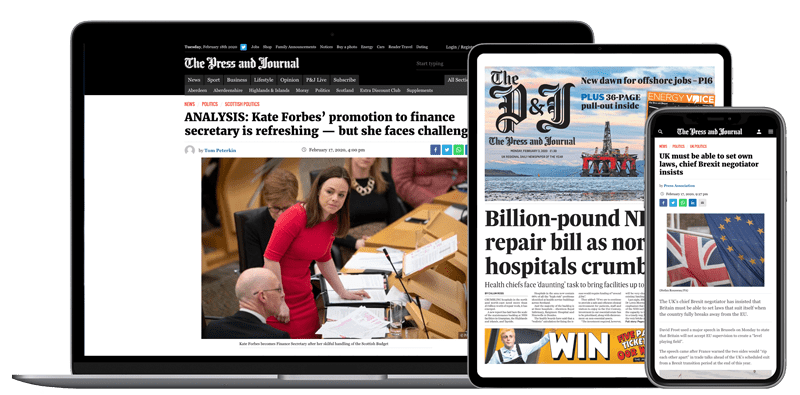 Help support quality local journalism … become a digital subscriber to The Press and Journal
For as little as £5.99 a month you can access all of our content, including Premium articles.
Subscribe