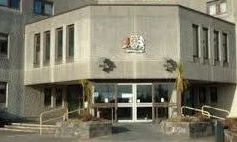 Western Isles Council is poised to publicly refuse a cheque for £11,400 from campaigners amid a bitter row over access to a sports centre on Sundays
The long-running dispute intensified last night as the Scottish Secular Society accused councillors of "abusing their powers".
But the local authority retaliated, claiming the society had displayed an "astonishing amount of ignorance" about the islands.
In October, councillors voted 19-9 against a year's trial run to open the Lewis Sports Centre and swimming pool for three hours each Sunday due to the costs plus the lack of staff willing to work.
Community campaign group Families into Sport for Health (Fish) launched a crowdfunding appeal for the minimum £11,400 costs of the pilot at the facility in Stornoway.
There was not enough support to hit the target, but then the National Secular Society (NSS) stepped in with a hefty donation to cover the outstanding amount.
Yesterday, Fish announced that it would be turning up to present that cheque to the local authority outside its headquarters on Friday.
But the council, which has previously rejected the cash, told the group not to bother because it still did not want the money.
A Fish spokesman said: "We feel it is necessary to hold a public event for this offering as throughout this campaign there has been public confusion.
"The community saw the crowdfunder as a solution to the stated financial problem as precedent had been set with the swim club."
Megan Crawford, chairwoman of the Scottish Secular Society (SSS), said: "It is disheartening to watch a community come together for the betterment of their families, only to have their efforts thwarted by elected representatives abusing their powers.
"Stornoway is no stranger to Sabbatarian influences, where parks are still locked shut on Sundays. Religious domination has no place in modern society."
But the local authority hit back, issuing a strongly-worded statement yesterday.
A spokesman said: "The SSS is mistaken in a number of its assertions which display an astonishing amount of ignorance about both the Comhairle (council) and the islands.
"Councillors take decisions based on a number of factors, including the views of people in their wards. There has been no change in position."
He added: "The Comhairle will not therefore be accepting the cheque that Fish are offering as to do so would be to accept money under false pretences as we would not be able to use the money for the stated intention."