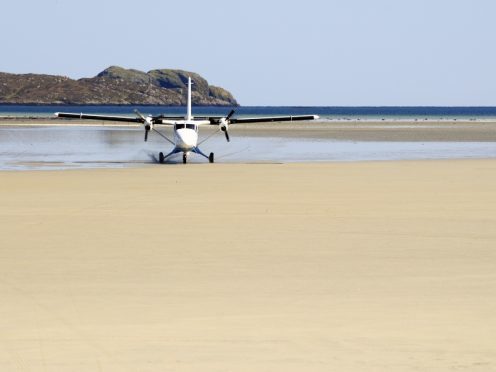 UK transport chiefs will be invited to a tiny island airport – as part of controversial plans for to build a third runway at London's Heathrow.
Barra Airport in the Outer Hebrides is believed to be the only airport in the UK that officially has three designated runways – but only when uncovered by the sea.
Now Western Isles MP Angus MacNeil, who lives on Barra, is planning to invite Transport Secretary Chris Grayling to view how the runways operate as plans progress for Heathrow's expansion.
Barra Airport – which celebrated its 80th anniversary last summer – saw passenger numbers increase by nearly a fifth to 12,861 in 2016.
In contrast Heathrow last week published its annual results, which revealed that total passenger numbers last year reached a record high of 75.7million, up by 1%.
Adjusted earnings increased 4.8% to £1.7 billion.
Heathrow is preparing to start work on a third runway in three years' time, despite claims from senior airline bosses that the timetable is unachievable.
But Europe's biggest airport says that it is on course to win planning permission in 2020 after passing all parliamentary, legal and planning hurdles.
Under current proposals, it is hoped that the third runway will win the support of MPs within 12 months and the planning process will be completed in a further two years.
But Mr MacNeil, who is chairman of the Commons' International Trade Committee, said that Mr Grayling could learn from Barra's "successful operation of three runways".
"Barra has had three runways for decades and operated them very successfully. They have also coped with increasing traffic," he said.
"I am considering inviting Mr Grayling to come and see for himself what is believed to be Britain's only airport with three designated runways.
"They may be covered by the tide each day but due to their unique atmospheric conditions there is never a problem with ice cancelling flights.
"The three runways are needed because of the wind and tidal conditions. But it is the only place in the UK where three are regularly used, so there are always lessons to be learned.
"It is also one of the most scenic airports in the world – and another good reason for the Transport Secretary to come and see it."
The first planes landed on the sand in the wide bay of Traigh Mhor in June 1936.