Five men were rescued from the fishing vessel Ocean Way around 20 miles east of Whalsay on this morning before it sank less than one minute later after taking on water.
The men abandoned their vessel and jumped into the sea, which is thought to have been less than seven degrees in temperature, before they were collected by the lifeboat.
Lifeboat coxswain Alan Tarby described the scene as "choas" and said there was less than one minute between the men jumping into the water and the boat fully sinking.
He believed something "struck the bottom of the boat and made a hole in it". The men walked away unharmed afer being taken into Lerwick Harbour on the lifeboat.
The lifeboat crew and Shetland Coastguard were alerted at around 6.50am after receiving reports of water entering the Ocean Way (LK207).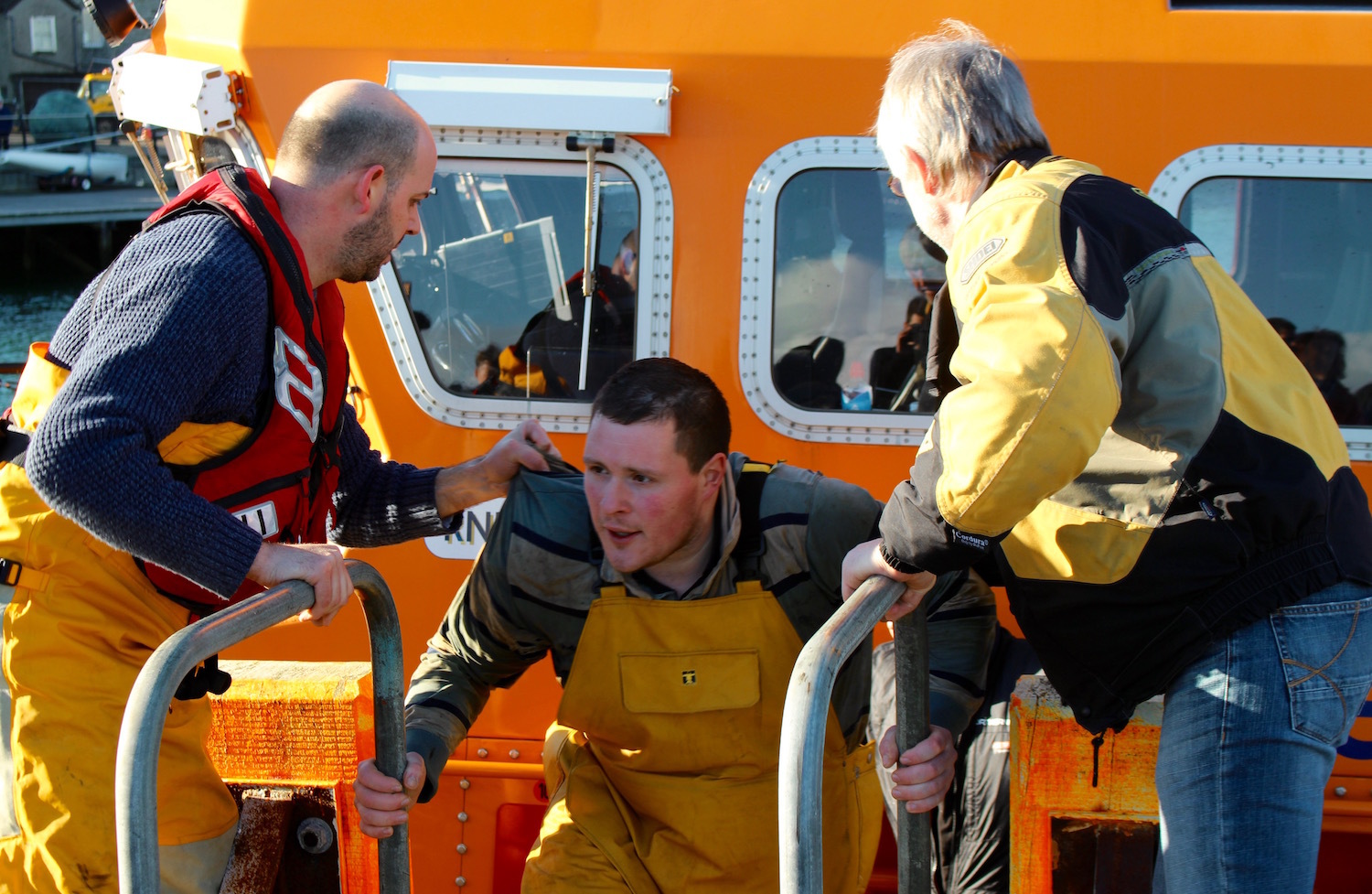 The lifeboat and the Sumburgh based coastguard helicopter attended the scene, while the salmon wellboat Gerda Saele attempted to pump water.
The lifeboat crew used their own pump, as well as another pump from the helicopter, but the fishermen – who were all wearing lifejackets – decided to abandon their vessel.
The fishermen later arrived at Lerwick Harbour on the lifeboat and awaiting paramedics checked them over before they disembarked.
The fishermen did not want to speak, but coxswain Tarby said in different weather the end result could have been "disastrous".
"They were struggling to cope with the water ingress," he said.
"The Gerda Saele managed to get a pump on board, but that wasn't managing to keep the water down, so we went alongside with another pump.
"That didn't stem the flow, so we went to the helicopter to fetch another pump, but while we were doing that the boys decided the situation had gotten too dangerous and they wanted to get off.
"It was a bit rolly, so the boats were coming together. As they drifted apart, the boys jumped into the water between the boats, which they felt was a safer option than being trapped between the two vessels."
Tarby said it was a "potentially very dangerous situation", especially if the men had been in the bottom of the boat at the time of the sinking.
Two lifeboat crewmen entered the water to help the fishermen on board. They were then given dry clothing, drinks and cigarettes.
Tarby said the boat, which was already well known to the Lerwick Lifeboat as one of the crew works on it, went down "extremely fast".
An investigation is expected to be launched into how the boat came to take on water.