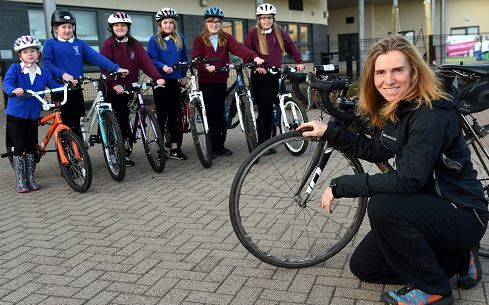 You might have seen the Hairy Bikers on TV. But now there is an all-girl cycling club in Aberdeenshire which shares their name.
Aberdeenshire schools have been taking part in a new scheme designed to persuade more girls to take up cycling.
Former Scottish mountain bike champion, Lee Craigie, visited pupils at Kintore Primary and they have now launched the first all-girls mountain bike club – the Hairy Bikers – in the area.
After noticing that fewer girls than boys were cycling to school, Sustrans decided to tackle the problem head on and has rolled out 15 I Bike officers throughout Scotland, who are specifically targeting all-girl cycling initiatives.
Kintore class teacher, Eric Clark said: "It's good to have more competition among girls and having mountain bike champion Lee Craigie here talking to the children has been inspiring.
"The club is fully signed up with 15 girls all aged between 10 and 12.
"The bike breakfasts, where you get a free breakfast if you cycle to school, really helps promote a more sustainable form of travelling to school."
Parents at Kellands School in Inverurie have just donated six bikes for use in its club activities along with a storage container, which is going to be fitted out as a community workshop.
The most northerly officer is Phil Thornley, who runs the Aberdeenshire I Bike project for Inverurie and Kintore.
He said: "I bring in adapted bikes that have smoothie machines on the back, so the kids can bring in fresh fruit and pedal away to mix their own breakfast – so we are also promoting healthy eating.
"The kids form their own bike crews and decide what activities to take on over the term.
"It gives them the choice to go on rides and go outdoors; we have been up to Bennachie for example."
"The all-girls club gives a more structured and slower-paced environment to learn, because boys can sometimes be a bit too boisterous.
"We don't have a boys-only club as boys will more readily go out on their bikes anyway."
Alongside cycling proficiency and teaching road safety, the I Bike initiative also encourages bike maintenance.