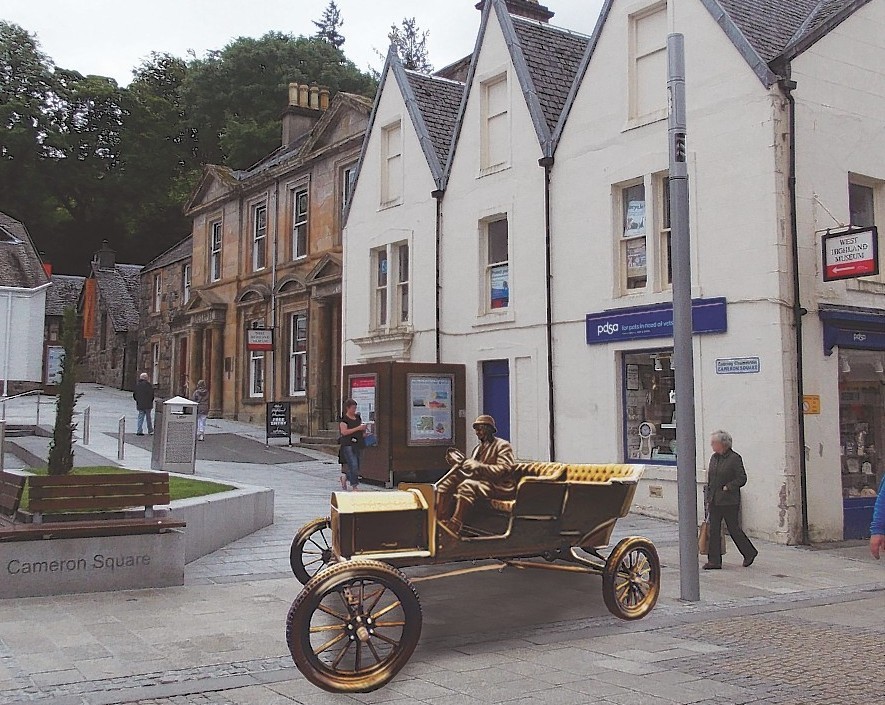 A replica of the famous Model T Ford car which was driven up Ben Nevis back in 1911 will be unveiled in Fort William next year.
Work is expected to start soon on the ambitious project to celebrate the journey to the top of the mountain and back by Henry Alexander Jr, the son of the country's first Ford dealer.
The life-size bronze statue of the car with Mr Alexander in the driving seat will reach the end of its road at Cameron Square where it will be officially unveiled on Saturday, May 19. There will also be a Model T Ford rally in the town on the same day.
Chris Robinson, of the Ben Nevis Bronze Ford Committee, said: "Highland Council did the tendering for us and a foundry has been approved.
"The budget for the project is £89,000 and we have £53,000 banked with a further £8,000 solidly pledged. We have also applied for funding through the Leader programme which provides grants to different projects throughout the country.
"To celebrate the centenary of Henry Alexander's achievement in 2011, volunteers carried the parts of a 1911 Model T Ford up Ben Nevis, assembled the car at the top then dismantled it and carried it back down again. These parts will be used as the moulds for the bronze replica.
"Also Henry Alexander's car didn't have running boards on it when it went up the Ben, but these were obviously put on at some point as they were on the car when it came back down. So the replica will have the running boards on it to make it authentic and people can step on them to get inside the car."
Mr Robinson explained that the statue will be fixed in place at Cameron Square by heavy bolts which will go through the wheels.
"I'm not sure how much the whole thing will weigh as some of the panels will be thicker than others, but the bolts will be fairly invisible and they will be secured to concrete under the paving stones.
"There won't be an engine in the replica and it won't have headlights or windscreen wipers either, which will make it more robust."
Remarkable film footage of the Model T Ford's historic climb in 1911 was discovered in 2015 and this can be seen at the West Highland Museum also in Cameron Square.
Mr Robinson said: "So many people, businesses and organisations have helped to raise money for the replica car that we are going to get little 6x2inch plaques made with their names on and these will run like tyre tracks from the statue to the museum."