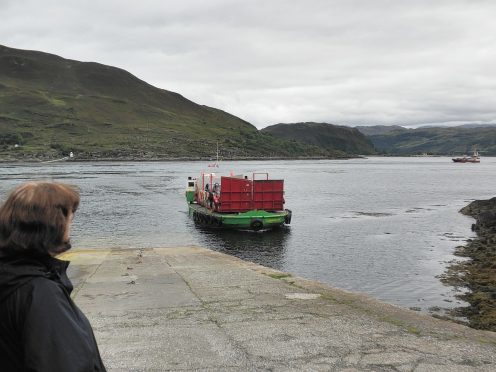 The only ferry of its kind in the world is ready to sail over the sea to Skye once more after a major refit costing more than £80,000.
The MV Glenachulish, the last working manually operated turntable ferry in existence, returns home to Glenelg on Monday with not only a brand new wheelhouse, but a brand new look.
She will resume her journeys across the Kylerhea straits to Skye the following week taking the first of around 35,000 passengers each year to the island.
The state-of-the-art new wheelhouse has new electrics, steering mechanism and monitors as well as other upgrades. This work is the last significant stage of a major restoration programme undertaken by the Isle of Skye Ferry Community Interest Company and was carried out at Kishorn boatyard where the vessel spends the winter.
Jo Crawford, the company's ferry development manager, said: "The work cost in excess of £80,000 which was funded by the ferry company.
"We also received £30,000 from the Glenachulish Preservation Trust and a total of £5,500 was donated by ferry supporters from all over the world in just a week after a campaign on social media to help preserve this historic vessel.
"We also had the ferry repainted dark green and white – based on the Cameron of Locheil tartan – which were her colours when she was launched in Ballachulish in 1969. When we took over the ferry in 2005, the vessel was painted black which was quite dour-looking, so we changed this to green. Unfortunately, it was quite limey, but this time the green is as close to the original as we could get."
The ferry runs every 20 minutes from Easter to October, carrying 35,000 passengers and 13,000 vehicles.
Ms Crawford said: "People love her so much that we have had two weddings on board and others have used her to scatter their relatives' ashes. We are not subsidised by the government, but the ferry is used so much that she pays her way. A single trip costs £15 for a car, driver and four passengers and there is a subsidy for local residents. It costs pensioners just £1 for a car and passengers which is really useful if they have to visit Broadford Hospital as it cuts out a 25 mile journey."
The MV Glenachulish does not just have human fans.
Victor the sea eagle is a regular visitor, popping down every day to stand on the slipway at Glenelg to see what's what.
"The new wheelhouse is her crowning glory, so we will have a celebration to welcome the ferry back and toast her new look," Ms Crawford added.