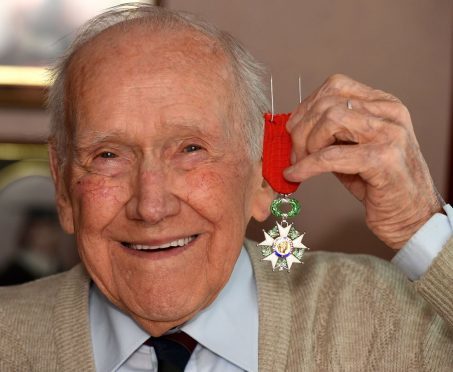 A Second World War hero who helped liberate the notorious Bergen-Belsen concentration camp has received the Legion D'honneur at a special ceremony.
Bill Diack, a wireless operator, gunner and tank driver in the army, was awarded France's highest honour for his bravery throughout the conflict.
The 93-year-old served in the Fife and Forfar Yeomanry, 11th Armoured Division, which was also known as "The Black Bull".
After landing in Normandy on June 8, 1944, he participated in the fight to liberate Caen and the battle of the Falaise Pocket in August.
Despite losing nearly 200 tanks, representing more than half its complement, the 11th Armoured was responsible for several major victories in the Battle of Normandy in 1944.
It subsequently participated in the rapid advance across France, Belgium, and the Netherlands and, later, the Rhine crossing in March 1945
Mr Diack, who also worked as a security guard and postmaster for The Press & Journal, in addition to playing Highland League football for Keith, picked up his honour at a ceremony with another ten veterans from the French Consul in Edinburgh this week.
He said: "It was very good to talk to the other veterans. It was good, but I've never been someone who looks for the limelight."
After working for Davidson & Sons paper mills in Aberdeen as an accountant, Mr Diack joined the army in 1942.
His forces life began in Blackpool, where he was sent for training. He soon became renowned for his tank-driving skills and entered Normandy two days after the D-Day landings. He moved on to Caen, where he thought he was going to die in a field fire after myriad bombs had landed.
He said: "Bombs were raining down on us. We were in a field and almost every part of it was on fire. We were surrounded. I was shaking like a leaf, I thought I was a dead man.
"Then I just stopped shaking because there was nothing I could do. In the end we were lucky it died out.
"We had German Messerschmitts coming through villages at 50ft with guns blazing."
As the division advanced towards the Bergen-Belsen camp, where 70,000 died, a German soldier approached them, holding a white flag in the air.
Mr Diack told of his shock when arriving there. He said: "A lot of the prisoners were in a pretty awful state, and many still died. Our medical people got in and did the best they could."
After the war, he spent two years engaged in training allied forces in Germany to use the most up-to-date equipment
While there, he listened to his beloved Aberdeen win the Scottish Cup in 1947. The season ticket holder, who has been going to Pittodrie since the 1940s, added: "I was able to get a wireless from a German for a couple of hours for a packet of cigarettes.
"It was the first time we had won a trophy, so I had to listen to it."
After travelling back to Bucksburn, he returned to life as a sales office manager and remained there for 34 years. He met the love of his life Dorothy while at the paper mill, and married her in 1949.
In their 68 years of marriage, they had three children, Bill Jnr, Alison and Jill, and seven grandchildren.
Sadly, Dorothy passed away a few weeks ago.