Next door neighbours from Brechin have scooped the lion's share of a £3million Postcode Millions prize pot.
Sheila Black, 64, and Susan Lindsay, 52, found out how much they had won at a special winners celebration in Montrose today where they scooped their cheques for £239,663 each.
Players from Brechin found out last week that their postcode DD9 6 was the winning postcode sector in People's Postcode Lottery's Postcode Millions.
It wasn't until today that they finally found out that the full winning postcode was DD9 6JH – making them both our big winners.
Sheila said the win would make a massive difference to her life:
"It's just absolutely amazing," she said.
"I'll be able to help out my family and go and visit my son in Australia – in fact, after seeing how much I've won I think I'll be able to go a few times.
"I came along today and looked around at all the people, and wondered who would be the big winner – I never thought for a second that it would be me.
"I'll definitely keep on playing – it's not just us that have won today, it's all the charities too. I hadn't realised how much money players like me had raised for so many good causes. I'll be telling my friends to sign up now."
Neighbour Susan said that winning was the luckiest moment of her life:
She added: "I'm totally overwhelmed. It's true what they say – you don't think that something like this could happen to you until it does.
"It's a life-changing amount for me. I can treat my family and friends – I don't know what I'll do with the money yet, but it will be something lovely.
"Brechin's a small place, so it was incredible to see people I know here who have won as well."
A whopping 245 winners attended the event at House of Dun in Montrose earlier today. Other winners in the sector shared the remaining prize pot, with prizes ranging from £8,812 right up to the largest share of £239,663.
Suzanne Benton truly is twice as lucky – she's pregnant with twins, and won £17,624 as she plays with two tickets.
The 34-year-old said: "It comes at a perfect time for us with two on the way in just over a month – buying double of everything is expensive.
"My husband Kenny and I have a three and a four year old already, Zara and Blair, so they'll be getting some goodies too – a holiday is top of the list for them so I think we'll manage that.
"We were expecting about £2,000 and would have been delighted with that, so this is amazing and gives us peace of mind for the future."
People's Postcode Lottery Ambassador Jeff Brazier said:"It's been an amazing day in Brechin. It's an amazing feeling to hand over those cheques and it's great to hear how our players are planning to use their winnings. Congratulations to all our winners."
Over £182.7 million has been awarded to more than 2,800 good causes thanks to players. A number of supported charities joined in today's celebrations including Riding for the Disabled Association, Girlguiding, Woodland Trust and Wildlife Trust.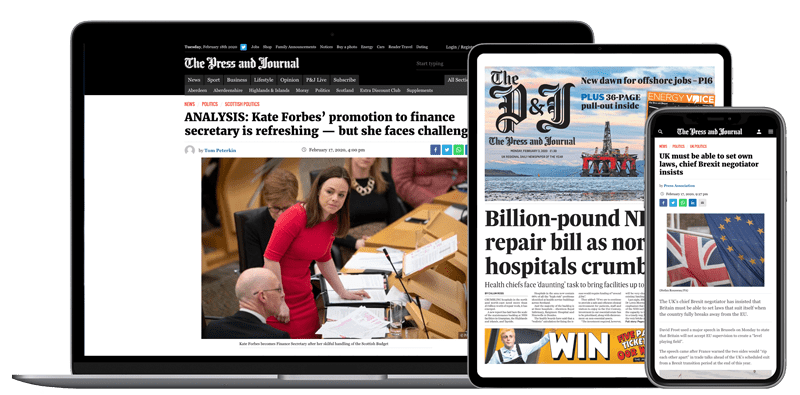 Help support quality local journalism … become a digital subscriber to The Press and Journal
For as little as £5.99 a month you can access all of our content, including Premium articles.
Subscribe