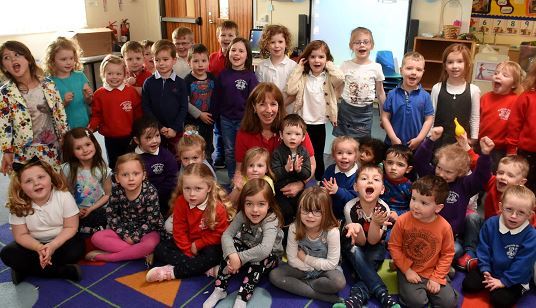 A popular Aberdeenshire teacher has retired after spending almost four decades teaching generations of pupils at the same school.
Gill Macauley started at Kellands Primary School in Inverurie in January 1979 after attending Hilton College and has tutored a string of subjects to an estimated 1,000 children during her career.
Mrs Macauley spent her last day in the Kelland's nursery class on Friday, after chalking up 39 years with the school – making her their longest-serving employee.
Prior to the start of her long career in teaching began, she was a successful swimmer and represented Scotland with distinction and a significant amount of success throughout the world.
Indeed, she won a bronze medal at the 1974 Commonwealth Games in Christchurch in New Zealand in the backstroke when she was only 17 and called Gill Fordyce.
She also held the Scottish record and was the British backstroke champion, posting a series of impressive performances wherever she competed at a time when Scottish swimming success on the global stage wasn't that common.
As the years passed, she gradually moved away from the pool and entered the teaching ranks, but, given her passion for the water, it probably wasn't a surprise that she maintained her links with competitive swimming.
Mrs Macauley subsequently went into the Scottish Masters' competition when she was 40 – and lived up to her past achievements by surging to four gold medals in Glasgow in 1997.
Her husband, Mike, is very proud of his wife's achievements and thinks her swimming prowess helped propel her teaching career.
He explained: "There were no teaching jobs when she graduated, but the then headmaster, Pat Walker, saw our wedding photograph in the Leopard Magazine.
"His brother in law, Ian Black, pointed out her swimming achievements and an interview was arranged – how recruitment has changed since these days!
"She has taught at the same school which is a pretty unique situation – and by the school's reckoning, she has taught more than 1,000 children in all that time."
Mrs Macauley has been instrumental in organising swimming galas at Kellands School and has been involved with fundraising for the Inverurie Locos football team – the club where many former Kellands pupils have played throughout the years.
She now plans to spend her retirement looking after the small herd of eight Aberdeen Angus cows which she keeps with her husband and continuing her involvement with her cherished Inverurie Locos.
Ultimately, though, suspects she will never really put her feet up, not when there is the possibility of making a splash.