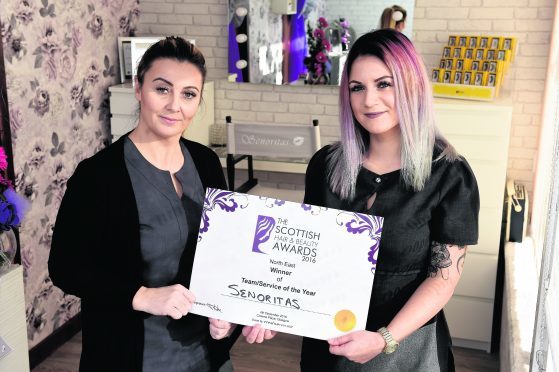 Choosing which salon to visit for your beauty treatments is a tricky decision. We discover the award-winning Senoritas in Peterhead.
It is a similar story with many mothers – Heather McGee, 29, worked in accounts for 12 years before changing her career to suit life around two young children.
What sets Heather apart is how successful she has made her new career in the beauty industry.
Heather now runs Senoritas, a salon in Peterhead. Here clients can get their hair, nails or make-up done professionally. And now the local community have an award winner among them. Senoritas won the Best Make- Up Artist award at the recent Aberdeen Business Awards, held in Dyce. Heather and Senoritas now progress to the next stage of the competition in Glasgow, at the Scotland Business Awards.
Why did you decide to leave your previous career?
I actually started in administration in an engineering company. I stayed there in the accounts office and did my exams then the kids came along and priorities change. When we were younger I used to do the nails of my sister and cousins.
How did you start out your business?
I did a course with the Academy of Make-Up in Aberdeen and then I originally built a small room in a salon in Peterhead. It was so busy and Peterhead was really good.
What are your most popular treatments?
From the beginning we were busy with nails and make-up. I am qualified in nails and also waxing and facials.
How daunting was it starting your own business?
I have never done anything like that before, but I set my goals. Now there are two of us working in the salon. It is a lot of work to have your own business. A lot goes on behind the scenes.
Did you have some help from your family?
My husband decorated the salon and my family have supported me. My daughter wants to work in mummy's shop. I'm grateful for everyone coming back and my colleague Jackie is a huge support.
Have you found the hours very full-on?
It doesn't feel like coming to work. Make-up is something I am passionate about. I am forever buying make-up. The transformation makes you happy. I have also helped cancer patients with their make-up and give them tips on how to apply it.
Do your children take an interest in the salon?
They are three-and-a-half and five years old. Clients are really adaptable and don't mind the kids being in the salon. We have also started doing kids' nails and kids' pamper parties. Beauty is starting younger and the kids as princesses come into the shop and play musical bumps and get their nails done. Everybody loves it.