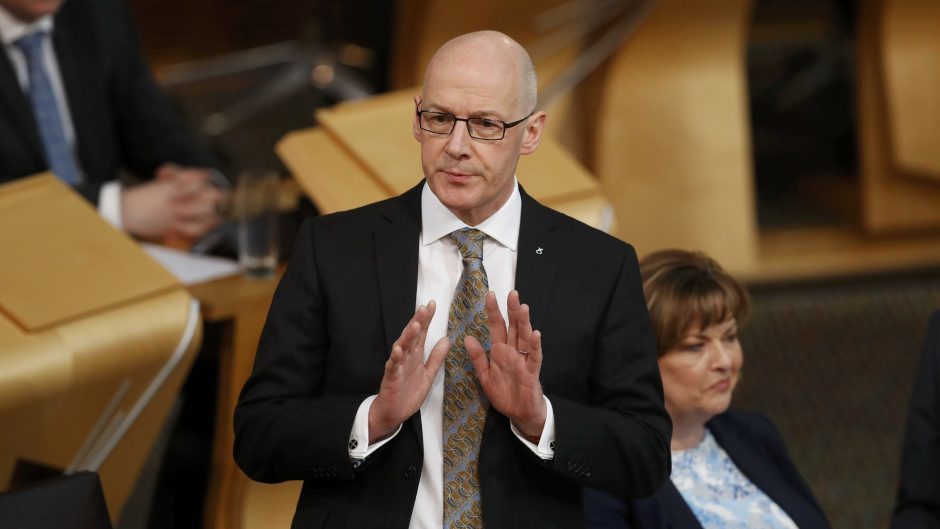 Education Secretary John Swinney said maintaining teacher numbers and pupil-teacher ratios would be a priority as he unveiled five pledges for SNP councils today.
The other commitments are better schools in better buildings, the transformation of early learning, improving the outcomes for looked-after children and investment to give every child the "best start in life".
Campaigning in the run-up to the local elections on May 4, Mr Swinney said a vote for the SNP would ensure councillors "dedicated to protecting and improving" education.
The deputy first minister added: "A good education is an investment – not just in our children, but in our society and our economy too.
"The SNP believes from the early years through to adulthood, everyone should be given the very best chance of success in life."
He said his party was nearly doubling free childcare to 30 hours a week, investing £120million in schools and putting power in head teachers' hands.
Additionally, SNP councils will work with the government to build or refurbish 112 schools by 2020, he added, covering every local authority area.
He continued: "These policies are a firm building block in helping us deliver our vision for a Scotland where every child has every chance to succeed."
But Shetland MSP Tavish Scott, the Scottish Liberal Democrats education spokesman, said a vote for the SNP would bring "centralised" and "national" policy.
He added: "That means when SNP ministers say jump their councillors will just ask Nicola how high?
"The SNP do not understand that local people want local councillors who will fight for local schools, not impose national policy and education cuts."
Liz Smith, Scottish Conservative shadow education secretary, said the SNP's rhetoric on education had not been matched by the "necessary action".
She added: "Having been in power for 10 years they have no excuses for why we are performing so poorly, with teacher numbers too low and the recent PISA figures showing that Scottish pupils are now playing catch-up with the rest of the world."
Scottish Labour's education spokesman Iain Gray accused Mr Swinney of repeatedly dropping the ball.
He added: "Under the SNP, the gap between the richest and poorest in our schools has widened, and there are 4,000 fewer teachers and 1,000 fewer support staff in our schools."
In mid-February of this year, councils across the north and north-east were battling to fill more than 200 vacancies.