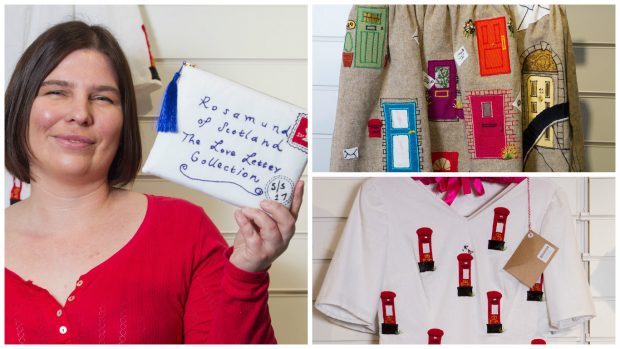 A postwoman has turned fashion designer selling "romantic and nostalgic" clothes inspired by her Royal Mail job.
Chloe White has dropped off thousands of letters and parcels after signing up to work for the delivery service five years ago.
The mum-of-four says she has collected a lot of impressions and experiences on her 10-mile route — from meeting her husband to being bitten by a dog.
But a recent career break finally enabled her to realise a childhood dream of working in the world of fashion.
And from her home in Falkirk, she has now launched a fashion label with designs of some of the iconic symbols which accompanied her on her rounds.
Together with her mother, she has created a selection of dresses, skirts, scarves and cardigans bearing images including our iconic red postboxes and letters.
The 34-year-old said launching her label, Rosamund of Scotland, and putting her items on sale was a dream come true.
Chloe said: "I've always wanted to be a fashion designer, ever since I was a little girl.
"I started at college then went down south to study. When I finished I ended up having a family, which got in the way a little bit.
"I started at the Royal Mail five years ago but I took a year's career break to turn my focus back on to fashion.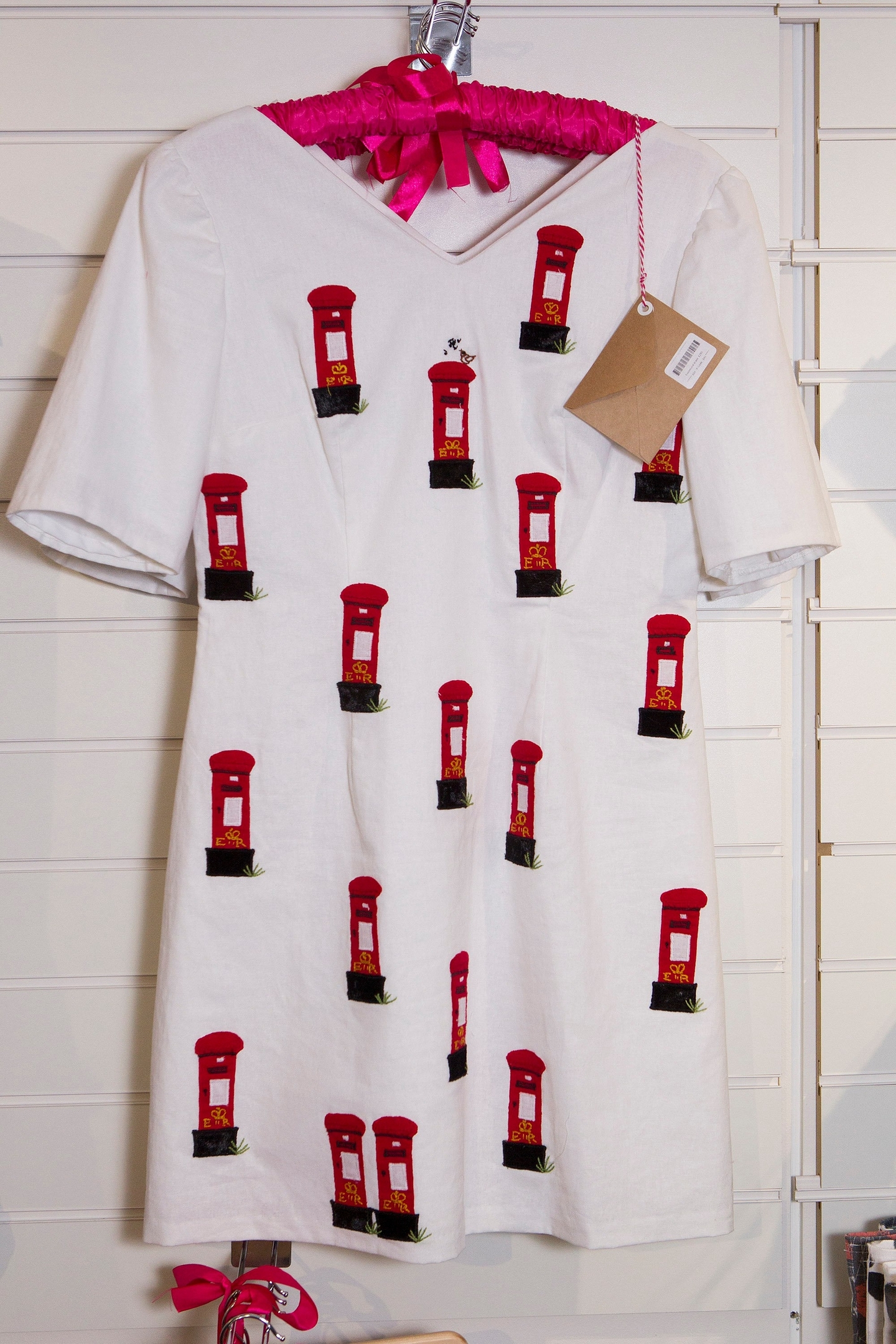 "I decided to combine my fashion with things that I saw every day while out and about when I was a postie.
"It made sense to use them as my inspiration. It's a very nice place to start my fashion career from because it is like a transition."
Chloe studied fashion design at Fife college and De Montfort University in Leicester.
And when she had a family, it derailed her plans to get into the world of fashion and she decided to take a job at the Royal Mail to make ends meet.
But despite her dream having to go on hold, Chloe never stopped designing items after having children – Noah, Isabella, Olivia and Elizabeth.
She vowed to get back into fashion and is now combining her job and passion of creating bespoke outfits and accessories with the help of her mother Susan.
She said: "I thought working as a postie would be quite an easy job but it turned out to be quite challenging.
"I was doing up to 10 miles a day and climbing a lot of stairs. I even got bitten by a dog once. It was on the bum and taught me to run faster.
"You have to be determined and keep on going. I feel like I've applied that to my fashion career.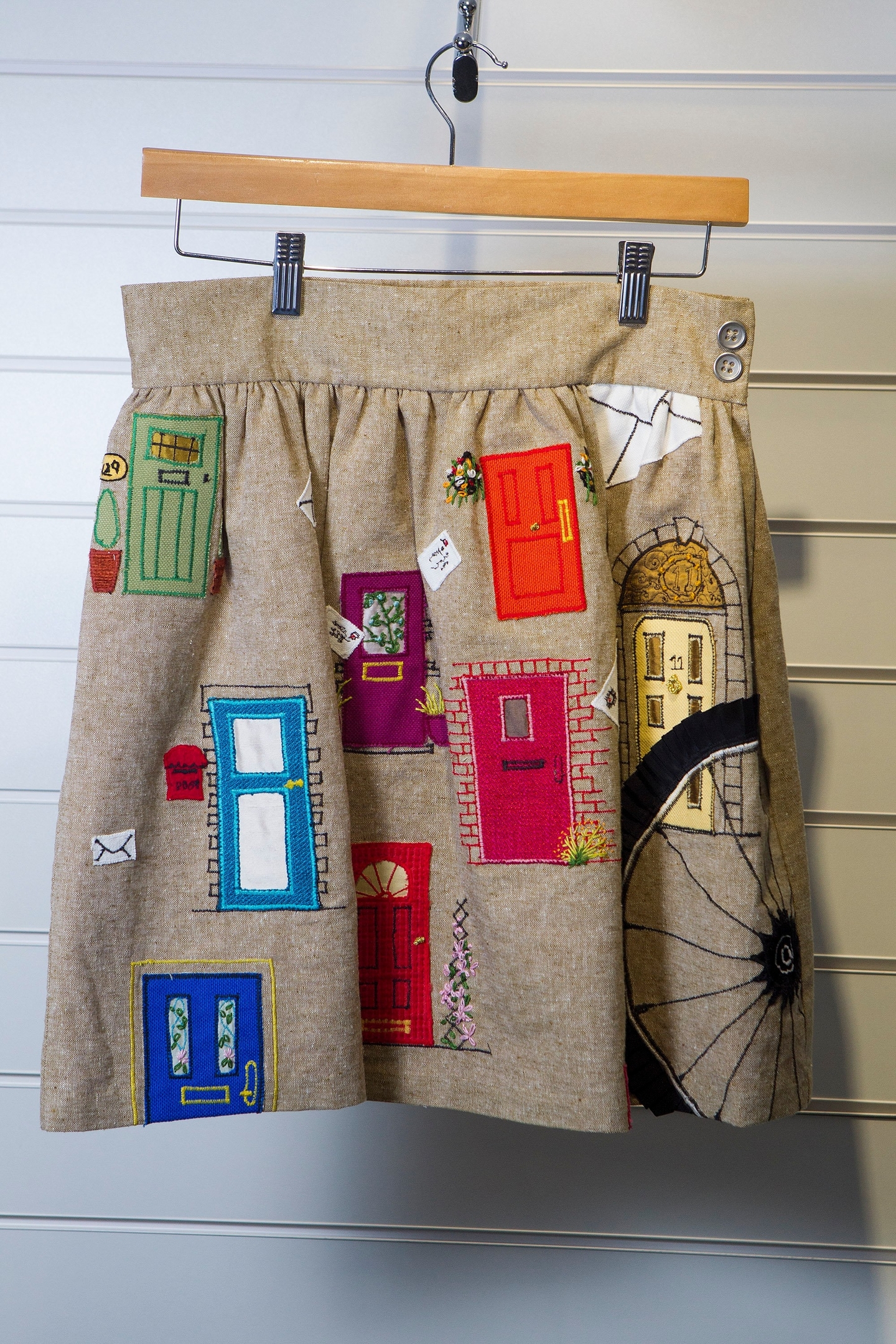 "It's about getting inspiration from everyday life. My textile designs are inspired by letters, envelopes, front doors and post boxes.
"The images must have been stuck in my head from going around all the doors. It's a kind of romantic and nostalgic way of looking at my job."
Chloe has a special affinity to Royal Mail, for more reasons than just working there.
She continued: "Royal Mail actually means a lot to me as I met my fiancee Alexander while working there. We fell in love during the night shift."
Chloe said that despite Royal Mail inspired designs being used, there are no copyright issue as she does not include registered trademarks.
She said: "I have sent pictures to the Royal Mail pictures and spoken with them. They have even offered to help with marketing, so I'm confident that there is no issue.
"All of my designs come from my own watercolour paintings and anything used is just inspiration, rather than actually copying it."
And with the tough task of juggling her fashion business and looking after her children, she is very thankful for the support network that she has around her.
She said: "My mum, Susan, is a textile designer and she helps a lot. She is retired so I think she is quite glad to be able to help.
"I do the fashion design and make the patterns for the garments. My mum does the watercolours and some of the hand-embroidery.
"Then we both do the sewing together from home. We embellish the garments and we also use a local company to print designs onto the silk.
"A lot of work goes into each garment and each one is a one-off design. It feels like hundreds of hours have gone into it. It's a labour of love.
"After all of these years, we are finally doing what we wanted: we bring art and fashion together."
Chloe's "Love Letters" collection launched but she has already sold items through The Scottish Design Exchange in Edinburgh.
Her collection includes a White Essex Linen dress with appliqued post box details for the price of £250.
A Letter circular skirt in Taupe Essex Linen, with appliqued letter detail, is available in white and camel at £110.
And a Printed Post Box shift dress with black bow belt. fully fined with black, is going for £150.
Chloe is also selling crocheted lace gloves in white (£45), an envelope style clutch bag (£28) and a silk scarf (£45).
As well as the support she has received from her loved ones, she has backing and interest from well-known fashion bloggers.
She said: "Nicole Abbott has said she is going to take one of my dresses over to Vancouver which is fantastic.
"She is also going to put pictures up of her in it, and she has 30,000 followers on Instagram so that's great publicity."
Now that her business is up and running, Chloe has set her sights on bigger dreams — namely, London Fashion Week.
She said: "I was nervous when my new collection went into store in case it didn't sell, but I have been so pleased that people are buying our designs. .
"I would love to get into London Fashion Week. You never know."