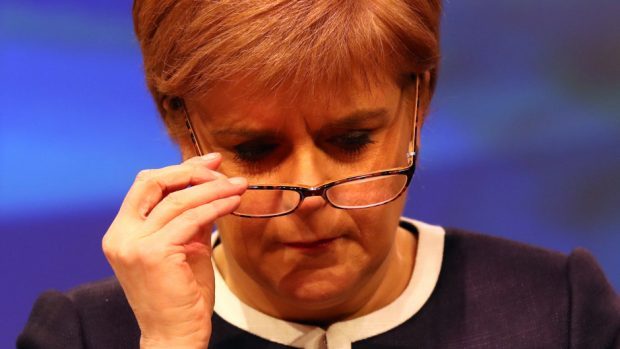 First Minister Nicola Sturgeon has been forward in asserting that she "intends to win" to the General Election in Scotland but some in her party will feel the snap vote could potentially put their position at risk.
The Press and Journal revealed today how Conservative leader Ruth Davidson has drawn up a secret list of seats she feels could be stolen away from the SNP – including depute leader Angus Robertson's Moray constituency.
However, Mr Robertson will be far from the only SNP MP looking over their shoulder as Brexit and the drive for a second independence referendum push the breaks on the SNP's staggering 2015 success – a period described as 'peak nat' by Ms Davidson.
As Scotland's key battlegrounds are revealed, here are nine seats the SNP could lose in June's snap General Election…
Angus Robertson – Moray
On the faces of things, this one looks unlikely. Robertson won a huge majority of more than 9,000 less than two years ago. However Tory strategists believe the fact that the constituency came as close as anywhere in Scotland to voting for Brexit could put the seat in play. The party are rumoured to be looking at putting a big name up to contest Robertson's hold and Highlands and Islands MSP Douglas Ross is understood to be a favourite. If it happens, it would be a massive scalp for the Tories.
Calum Kerr – Berwickshire, Roxburgh and Selkirk
A staunchly unionist seat at the very foot of Scotland, voters pushed Calum Kerr to victory with a tiny majority of just 328. With the rest of the vote split between incumbent Lib Dem Michael Moore and Conservative John Lamont, a marginally more targeted unionist vote could be enough to oust Kerr.
Paul Monaghan  – Caithness, Sutherland and Easter Ross
One of Scotland's most northerly constituencies, Paul Monaghan won the seat with a decent majority. However, in every other General Election since the seat was created, voters have backed a Lib Dem candidate. Add in the centralisation row over Highlands and Islands Enterprise and the revelation that Monaghan signed off 255.75 extra hours for his brother in under a year, and the SNP's hold begins to look a bit more precarious.
Richard Arkless- Dumfries and Galloway
Another decent majority that benefited from a significant split in the unionist vote. The SNP won the seat from Labour – who had held it since it was created in 2005 – but with two Conservative MSPs and Scottish Secretary David Mundell in the neighbouring Dumfriesshire, Clydesdale and Tweeddale, the Tories will be hopeful of causing an upset.
John Nicolson – East Dumbartonshire
One of the genuine shocks of the 2015 General Election was when SNP candidate John Nicolson managed to narrowly oust previous incumbent Jo Swinson. Swinson, who was – and still is – regarded as a genuine rising star in the party has announced that she will run again in East Dumbartonshire on a pro-UK, pro-EU ticket. This one really could be a tough one for the SNP .
Michelle Thomson (now independent) – Edinburgh West
The Lib Dems could well fancy this one given the property scandal that led incumbent Michelle Thomson to be removed from the SNP group and sit as an independent. Previously a Liberal Democrat stronghold and a fairly close run thing in 2015.
Natalie McGarry – Glasgow East (now independent)
Another scandal hit former SNP MP, with Natalie McGarry facing criminal charges over missing funds. Voters may be slightly less sure about voting for Nicola Sturgeon's party this time around. However, Labour would have to overturn a massive majority if they want to capitalise and there is currently no word on whether McGarry plans to stand again as an independent.
Stephen Gethins – North East Fife
Previously a Lib Dem stronghold under party stalwart Menzies 'Ming' Campbell, Stephen Gethins was able to take the seat with a decent majority in 2015 over relatively unknown Tim Brett. It was the first time a candidate had stood in North East Fife since Campbell stepped down. Whether or not a higher-profile candidate will stand this time remains to be seen but with Scottish Lib Dem leader Willie Rennie in the accompanying Holyrood constituency, the party will feel this is a seat that could be their's for the taking.
Stuart Donaldson – West Aberdeenshire and Kincardine
In the north-east, fertile ground for the Conservatives in last year's Holyrood election, West Aberdeenshire and Kincardine is seen as winnable. Stuart Donaldson holds a 7,033 majority but Alexander Burnett claimed it for the Tories in the Scottish Parliament.
…. But could they gain more?
Although the SNP's performance in 2015 was impressive, what makes it all the more incredible was how close they came to sweeping the full board. Scottish Secretary David Mundell kept his seat with a slim majority of just 798, while Ian Murray fared better with 2637 votes between him and SNP candidate Neil Hay.
Orkney and Shetland MP Alistair Carmichael meanwhile saw his 2010 majority plummet with a swing of 23.9%. Embroiled in scandal in the run up to the election, Carmichael eventually squeezed through by just 817 votes.
While the SNP could be set for a battle to hold on to many of their constituencies, they may also be looking at the remaining three as potential wins. David Mundell in particular would be a huge scalp while any of the three could potentially eradicate their party's Scottish contingent at Westminster.
Nicola Sturgeon said she "intends to win" the General Election in Scotland. Could this be what she means?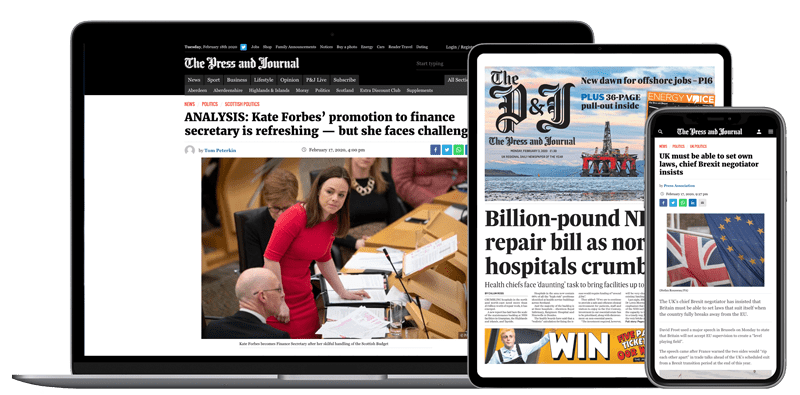 Help support quality local journalism … become a digital subscriber to The Press and Journal
For as little as £5.99 a month you can access all of our content, including Premium articles.
Subscribe