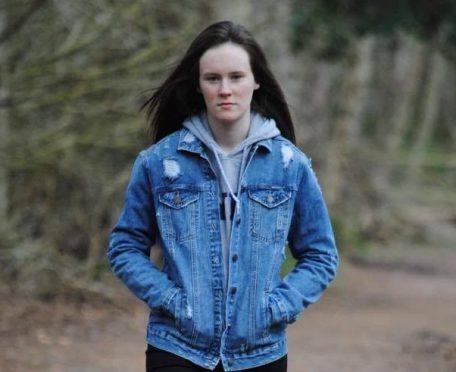 Mia Mackintosh is only 17, but has already demonstrated she can derive artistic inspiration from adversity.
The teenager was close to her grandparents, Jane and Finlay and was traumatised when they died five years ago. But she channelled her sadness into creativity and the results have been truly striking.
Society, a three-track EP, is the debut release from the Nairn-based resident and her ability to mix soulfulness and melody with a harder edge to her guitar playing has led to her music being compared to artists such as Tracy Chapman and The Cranberries.
And, after her achievement in winning Moray Firth Radio's 'One to Watch' award in 2016, she recorded her own songs with acclaimed producer Marc Clement and will launch her new works this Friday.
Mia taught herself guitar and was interested in music at primary school. But it was the loss of her grandparents when she was 12 which proved the catalyst for her to write her own songs as a way of tackling her emotions.
She said: "I found it very tough to deal with, but music and writing songs gave me a focus to express my grief."
Encouraged by support from family and friends, she started performing live at a school talent show in 2014.
The following year, she was among the 16 contestants acclaimed at the Belladrum Festival's 'Bella's got talent'. This exposure led to various other live performances, including the Findhorn Bay Arts Festival.
In 2017, Mia performed at the highest venue in Scotland, the Ptarmigan Restaurant on Cairngorm Mountain (3,599ft above sea level) as part of Groove Cairngorm, Scotland's renowned winter sports festival.
She added: "I'm lucky to have had these opportunities so far and everyone has been so kind. I'd especially like to thank Dougie Brown (Belladrum & Groove festivals) for his support"
Mia participated in the Scottish Music Centre's Music Plus project in 2016. Aided by their mentoring scheme, she started working with musician, studio producer and engineer, Marc Clement.
The latter has collaborated with many renowned Scottish musicians, including Charlie MacKerron, Adam Sutherland and Karine Polwart and has performed extensively as an acoustic guitarist and pianist, including being a founding member of Blazin' Fiddles.
Mia said: "Music Plus has been great for me. I've learned a lot, and learned there is a lot more to learn.
"Collaborating with Marc as producer has been a real eye-opener. He has added real depth to my songs"
Spending her time between school, music, family and friends, Mia is sitting her final exams at the moment. Whilst she is committed to pursuing her music, she is also considering studying criminology.
She concluded: "I've applied to join the police force, so you better be careful or I may be singing you your rights! But, for now, I'm keeping my head down and studying for my exams."
Mia is an active Youtuber and will release her first music video in the coming months, collaborating with Glasgow Clyde College film student Christy Kail.