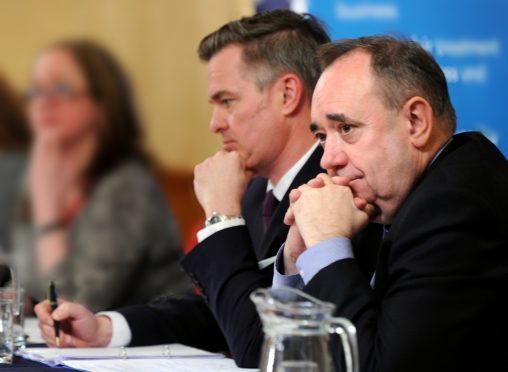 The Press and Journal can exclusively reveal Scottish Conservative, Colin Clark, will go head-to-head with former First Minister, Alex Salmond, in the Gordon Westminster constituency.
The businessman and farmer was elected as a councillor for Inverurie in a by-election in November last year and is standing for re-election to Aberdeenshire Council next week.
Mr Clark previously stood in the overlapping Aberdeenshire East Holyrood constituency in 2016, where he finished second behind the SNP's Gillian Martin, but increased the Tory share of the vote by 15%.
Mr Clark insisted his main campaign message would be no to a second Scottish independence referendum.
He said: "The Scottish Conservatives are the only party that can defeat Alex Salmond and I am the man to do it.
"The Liberal Democrats are not at the races and I need every Unionist vote in Gordon behind me.
"I have been in training since 2015 and I am fit and ready to win this seat in June.
"I stood in the 2016 Holyrood election and doubled the Scottish Conservative vote, securing 29% support. The momentum is with the Scottish Conservatives and we have made stopping another referendum our priority."
Mr Salmond pointed to the 2015 Westminster results for the seat, where Mr Clark came in third behind the Liberal Democrats with 12% of the vote.
He said: "He is a perfectly personable guy, but he seems to be hedging his bets by standing for both the council and for Westminster.
"If he was confident about his prospects in the UK parliament, he would stand down from his council position now.
"The fact he is not doing that betrays a lack of confidence.
"Mr Clark did come trailing behind the Liberal Democrats last time, but I don't take anything for granted."
Results from the 2015 Gordon election saw Mr Salmond win the seat with 48% of the vote and a 26% increased vote share, followed by Lib Dem Christine Jardine with 33% and a 3% fall in vote share.
Mr Clark's campaign yielded a 7% drop in the Conservative share of the vote, but he still finished ahead of Labour, with 6% of the vote, and UKIP, with 2%.