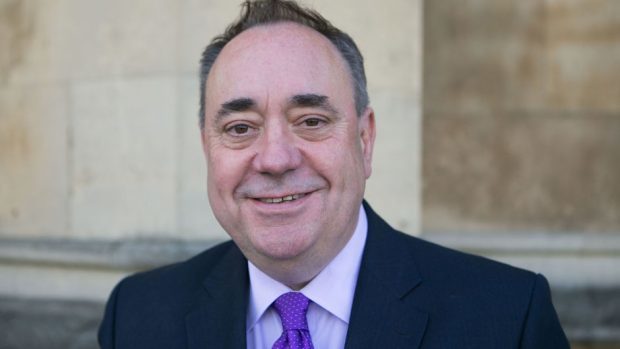 The Liberal Democrats have announced their candidate to take on former first minister Alex Salmond in the general election.
David Evans will stand for the party in Gordon, won by the SNP heavyweight in 2015 with a majority of more than 8,600.
Prior to then Malcolm Bruce, now a Lib Dem peer, who stepped down had held the seat since 1983.
Mr Evans is a former Ellon Academy pupil and unsuccessfully contested the Banffshire and Buchan Coast constituency in last year's Holyrood elections.
The Aberdeen University law graduate, 25, said Gordon deserved an MP who would "put the local area first".
He added: "Ever since the election of Alex Salmond all we have seen is political interview after political interview with him harping on about independence.
"Despite having such a high profile MP, the SNP have failed the people of this constituency."
Scottish Lib Dem Leader Willie Rennie, who was campaigning in Perthshire yesterday, added: "Alex Salmond is set for a nasty surprise if he thinks that his re-election is going to be a breeze."
But Mr Salmond branded the comments "typical negative stuff" from the Lib Dems and urged Mr Evans to find something positive to say about his party "because no-one else can".
He said he had taken on casework for more than 2,400 constituents in the last two years and was proud to have represented the north-east of Scotland for three decades.
He added: "In terms of the SNP's commitment to the north-east, the AWPR is taking shape before our very eyes, the Inveramsay Bridge has already been built, there is a brand new school in Ellon and construction on the new Inverurie Health Centre has just started.
"That's what active representation has done for Gordon, in contrast to the decades of Liberal neglect."
Meanwhile, the Lib Dems have chosen John Waddell to stand in the West Aberdeenshire and Kincardine constituency.
Like Gordon, it was in Lib Dem hands until 2015 when Sir Robert Smith was beaten by the SNP's Stuart Donaldson.
Mr Waddell, 25, from Banchory, currently works as a case worker for North East MSP Mike Rumbles.
He stood unsuccessfully for the party in Aberdeen South and North Kincardine in last year's Scottish Parliament elections.
He is also a candidate for the George Street/Harbour ward in this week's council elections.
A spokesman for the Scottish Tories said only they could take on and defeat the SNP, especially in the north-east.