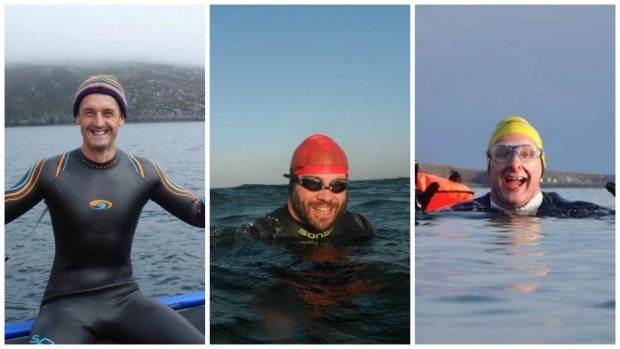 Three men are to swim 21 miles from an Outer Hebridean island at the centre of one of the world's greatest mysteries.
The trio are to attempt to swim from the Flannan Isles to Uig on the west coast of the Isle of Lewis – each representing a lighthouse keeper who mysteriously disappeared from Eilean Mor – the main island of the Flannans – more than 100 years ago.
In the summer, charity open-water swimmers Colin S Macleod, Ed Smith and Stuart Baird, all from Lewis, will attempt The Flannan Isles Mystery Swim.
The team will swim in relay formation, in 45 minute legs.
Team captain Mr Macleod said: "The thing about swimming in the ocean is that you don't know what's out there. We're happy to put our lives on the line to raise money for the RNLI as they do it all the time.
"The RNLI are made up of volunteers who daily put their lives at risk to rescue others. And living on an island, you really do appreciate the work that these men and women do."
Mr Smith added: "We often camp at Mealista in Uig and seeing the light flash on Eilean Mor sparked the idea for the swim.
"And anyone who knows the story about the Flannan Lighthouse Keepers, it had to be a team of three swimmers to represent the missing keepers."
He added: "Ed, Stuart and myself are working to raise as much awareness about the swim in August, and to raise as much money as possible to the volunteer lifesavers of the RNLI."
Built in 1899, the Stevenson designed Flannan Isles Lighthouse was manned by Keepers Thomas Marshall, James Ducat and William MacArthur.
In December 1900, a year after the Flannan's light first shone, the grim discovery of their disappearance was made when replacement Keeper Joseph Moore arrived at the lighthouse to find it empty, the clocks stopped, a half-eaten meal on the table, a chair toppled over, and one of the three oilskin waterproofs still hanging up inside the door.
The true fate of the three men remains to this day unknown, with theories ranging from a rogue wave washing them to sea, to the trio being captured by foreign invaders, or even abducted by aliens.
And the mystery is now being given the Hollywood treatment with filming of 'Keepers', starring Gerard Butler and Peter Mullan, currently taking place in Port Logan, Galloway.