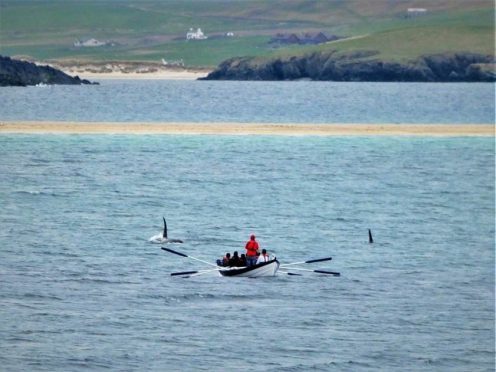 A group of rowers had a practice to remember on Monday evening when they ended up just metres away from a trio of orcas.
The Bigton Rowing Club's veteran mens team was in the water near to St Ninian's Isle when they saw a number of people standing on the shore.
After realising they were there to watch orcas, the team of six edged closer to the killer whales to get a better view.
Rower Iain White said the boat ended up being around 15 or 20 metres away from the marine animals before they swam on.
"We'd been out for about an hour and we'd turned back to shore," he said.
"We noticed various people on the shore line at the cemetery, so when we heard a shout that they'd actually seen something, we rowed back into the middle of the bay to see if we could get a bit closer, although we weren't going to expose ourselves to them.
"They didn't come right up to the boat, they just swam by and out of the bay."
White said it was a "very exciting" moment and estimated that the bull in the group of three orcas would have been around the same size as their boat, which is 23 feet long.
He said he felt there was no element of danger in the encounter, which was snapped by a number of onlookers from the shore.
There have been a number of sightings of orcas near to land in the past few weeks, while last summer a slew of spottings were recorded across Shetland.
Further south, two giant basking sharks were recorded off the island of Tiree – in unusually early sightings of Britain's largest fish in Hebridean waters.
Watchers aboard the conservation charity Hebridean Whale and Dolphin Trust's specialized research yacht Silurian – featured in BBC's Blue Planet – were shocked to see the basking sharks.
They were both seen alone during the same day – in the morning and evening- about six miles from Tiree.
In fact they the spotters thought the first creature's back was a large oil drum, but as they got closer they realised that it was the world's second biggest fish.
"This was exciting as basking sharks are more commonly seen later in the year, around July and August. A truly stunning day of the Hebrides displaying its wildlife and proving it can still shock even the most experienced seafarers," said the trust.