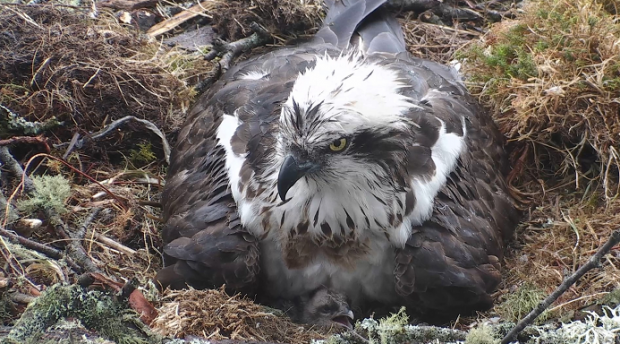 The first osprey chick of the season has hatched at a Perthshire nature reserve.
Loch of the Lowes Wildlife Reserve is a firm favourite, with previous osprey Lady capturing the hearts of birdwatchers for decades.
The record-breaking raptor – who fledged 50 young – failed to return to her nest at the Dunkeld site in 2015, after 24 seasons.
Her mate, Laddie, however remained and paired up with Lassie – ensuring wildlife lovers have been able to continue following the osprey journey.
And yesterday, the nature reserve announced their first chick of the season had hatched.
Cracks appeared in an egg on the nest on Saturday, and after a couple of hours Lassie stood up to reveal a tiny chick.
It is the earliest recorded hatching at the reserve since 2005, when the first chick emerged on May 12.
Staff at the trust expect another two eggs to hatch in the coming days.
Rab Potter, reserves manager at the Scottish Wildlife Trust said: "Our team of staff and volunteers has been watching the nest around the clock since the first egg was laid and we're delighted that the first chick has now made an appearance.
"All being well, the next two eggs will hatch over the next few days and we'd encourage people to keep an eye on our live osprey webcam for a chance to see the chicks emerge."
Osprey chicks grow incredibly quickly, fuelled by a diet of pike, trout and other fish brought to the nest by their parents.
They are ready to fly after seven to eight weeks.
They migrate 3,000 miles from Africa every season.
Once extinct in the UK, there are now around 240 breeding pairs of ospreys thanks to the efforts of nature conservation charities including the Scottish Wildlife Trust.
To view the ospreys via the trust's webcam, visit www.scottishwildlifetrust.org.uk