An SNP MP has been forced to apologise after repeating false allegations about a nurse who criticised her party's record on NHS wages.
During last night's televised Scottish leader's debate, Claire Austin, a registered health worker in Edinburgh, criticised Nicola Sturgeon for maintaining a 1% pay cap for workers in the service.
However, just minutes after appearing on the programme, rumours emerged online that Ms Austin is married to a Conservative councillor and had appeared at previous BBC events.
Justice and Home Affairs spokesperson Joanna Cherry, working at the event as part of an SNP "spin team", repeated the false allegations to members of the media – despite them later being proven to be false.
Ms Austin confirmed that she had appeared on a previous edition of Question Time but had been invited to return for the leader's debate after not being able to ask her question.
Challenging the SNP's decision to continue with a cap on wage increases for NHS staff, Ms Austin told the First Minister said she had been forced to turn to food banks while working for the service.
"You say you've ploughed millions into the NHS but I can assure you nurses are seeing nothing on the ground floor," she said.
"There are thousands and thousands of unfilled positions and the reason for that is it's so low paid. It's not a sustainable income.
"We can't live on it. We've had eight years and no pay rise and we're now having to strike. I'd rather leave nursing than have to strike because you have no idea how demoralising it is."
"You have no idea how demoralising it is to work within the NHS", says audience nurse at #leadersdebate https://t.co/u5WlVZxgul pic.twitter.com/zkDnDkxbfE

— BBC Scotland News (@BBCScotlandNews) May 21, 2017
Ms Sturgeon said nurses working in the Scottish health service get higher wages than those in England.
She added: "My sister works in the NHS, she tells me exactly what she thinks.
"I am agreeing with you, we have had a really difficult period but we've also had a policy of no compulsory redundancies but, as we see inflation rising, the NHS pay cap is no longer sustainable and the benefits cap is no longer sustainable."
Following the online furore, Ms Austin took to social media, writing: "I am truly saddened by what has been said about me tonight. I spoke on behalf of all NHS staff, not just myself, not just nurses but CSWs, the backbone of many wards, HCAs, again invaluable, and the porters too.
"I am not married. I was sat next to that guy on QT and did not get to ask my question. Therefore I was invited back to ask my question about pay rises.
"I am sad, although in this climate not surprised, at the verbal attack and abuse I have suffered from other nurses tonight. In my view are they are disgrace to our profession, and we wonder why so many want to leave."
Ms Cherry, who is standing for re-election next month in the Edinburgh South West constituency, later apologised directly to the nurse.
She wrote: "Sorry I was wrong about twitter rumours. [It is] entirely right that your voice is heard."
SNP Glasgow South candidate Stewart McDonald also defended the nurse's right to speak out, saying: "Not sure how relevant the marriage of an audience member is. Her remarks were listed to and the First Minister responded robustly. That's what matters."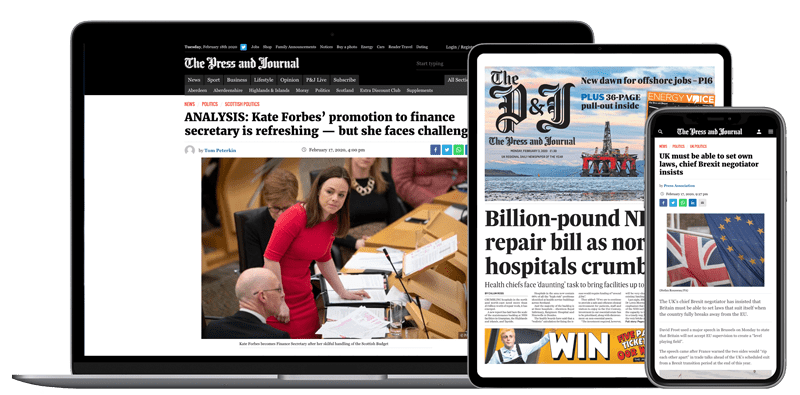 Help support quality local journalism … become a digital subscriber to The Press and Journal
For as little as £5.99 a month you can access all of our content, including Premium articles.
Subscribe