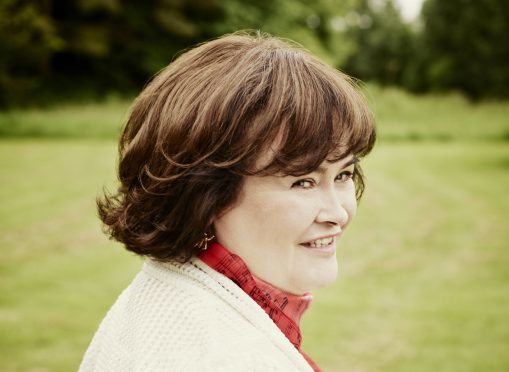 There were some people who thought Susan Boyle would be a nine-day wonder; another ephemeral shooting star on the reality TV conveyor belt.
Well, nine years later, the lady is still making waves and increasing her fan base across the world – particularly in the United States where she is idolised – in addition to headlining high-profile events such as the Glamis Proms in Perth on July 15.
And, what's more, Susan isn't above laughing at her occasional strops and remains proud of her West Lothian roots to the extent she couldn't countenance living anywhere else.
As she told the Press and Journal about her remarkable journey since she astonished the judges, Amanda Holden, Simon Cowell et al, during "Britain's Got Talent" after applying for an audition in 2008, one or two things became obvious.
Firstly, success hasn't remotely gone to her head. On the contrary, she still seems in thrall to singing, the Tinseltown nature of showbusiness and meeting people whose posters used to adorn her walls in Blackburn, the mining community where she grew up in the 1960s and 1970s.
And secondly, she has shown a remarkable pragmatism about those who have decried her success, arguing quite correctly she knew what they were thinking when she first appeared on stage in front of the initially sceptical BGT audience and adopted the philosophy: "All that mattered was that I could sing. It wasn't a beauty contest."
Susan might have had to wait for her success, but when it arrived, it was phenomenal. This is the woman whose story has been made into a stage show (and possibly a film): who performed for Pope Benedict XVI on his tour of Britain in 2010; and who was subsequently voted by Time magazine as the seventh most influential person in the whole world.
That sort of acclaim would overwhelm most of us, so how has Susan coped with the constant media attention and incessant popping of flashbulbs wherever she travels?
She pondered the question for a moment. Then she replied: "The critics thought I was going to be a flash in the pan, but with a great team around me and a brilliant record label (Syco), I am still going. Even I sometimes have to pinch myself to believe it.
"I've learned some lessons along the way. Don't Google yourself, for instance. And be yourself, warts and all. Listen to the team around you, take their advice, and, above all, enjoy it as much as possible.
"Yes, it's a great industry to work in and I truly am living my dream, but it's not all glitz and glam, it is hard work, and you just have to step up to the plate and get on with it.
"Once you are up there in front of the microphone, nobody else can do the job for you, it's in your own hands. But the benefits far outweigh any negatives and I get to stand on stage and sing to people, which is all I ever wanted to do from the start."
It's a far cry from the early days when her talents were only known to the congregation at her local Catholic church and a few regulars at a karaoke bar in Blackburn. Yet, while she has faced a variety of obstacles since being born prematurely – with Asperger syndrome – in 1961, Susan is staunchly loyal to her friends and those who have in any way been the catalysts for her global popularity.
As she explained: "It is very important to me that I still live in West Lothian and I would never want to move away from the area. I tried it with a new house, but I just wanted the familiarity that I had grown up with.
"Having friends and family around who have known you for years is crucial and they always ensure I don't get too big for my boots. I have a terrific team of people around me in my personal and professional life who are not afraid to say 'No' and that is vital….nobody likes a diva.
"Don't get me wrong, we all have our moments, but I'm incredibly lucky to have genuine people around me who care for my best interests. Family values are hugely important: they keep you grounded and ensure that success doesn't go to your head."
Susan has duetted with a veritable Who's Who of music royalty, encompassing everybody from Donny Osmond and Johnny Mathis to Elaine Paige and Placido Domingo and, thanks to the wonders of new technology, even joined forces with the late Elvis Presley. As a consequence, she has got up close and personal with many of the biggest names in the industry, whether in a concert setting or inside a recording studio.
She admits she has occasionally had to pinch herself on her journey, but, when asked about the luminaries from whom she had most derived inspiration, the response could not have been more emphatic or sincere.
Susan answered: "Well, it goes without saying, Donny Osmond. The kindest man in show business, he has been in the industry for over 50 years and is still the most humble, self-effacing, positive man you could ever wish to meet or work with.
"I've met him on a few occasions, and performed with him as well in Las Vegas and the UK and he is just so brilliant and makes you feel so comfortable. He is one of those people you can't help but adore, he is such a warm and intelligent person with a great sense of humour.
"Simon Cowell is another who inspires me and I am not just saying that because he is my boss! He really is a remarkable person, who has enjoyed a tremendous career, guides his artists brilliantly and, even though he is very busy, he still gets involved in every aspect of his artists' careers.
"He is an inspiration, hard-working and loyal….which is a rarity these days, not just in life, but in business."
In the past, Susan has performed in a variety of different settings and nothing in the repertoire really fazes her, whether it's "Memory", "I Know Him So Well", "River Deep, Mountain High" or "Ave Maria".
At the Glamis Prom, she will be the headline act, in the company of people such as Lee Mead and American virtuoso Christina Bianco. But although she is accustomed to gracing grand events, Susan admitted the butterflies are never far away before she starts to sing.
She explained: "I have always said you need nerves to focus yourself on the day of a performance. They are good nerves which ensure you do the very best you possibly can. But I always worry before a performance, more about ensuring that I give my very best, so the audience enjoys it.
"There is something unique and incredibly special about appearing in front of a Scottish audience, you can feel the support and, as an artist, there is nothing better than a standing ovation, so I am hoping to achieve that again this year.
"You know you have done a good job when you get that. Scots don't fake their emotions. If they stand up at the end, it means they liked it!"
Her albums have sold more than 20 million copies and talks are continuing about a movie of her life. If Susan decided – at 56 – that she wanted to relax and escape from the limelight, it would be understandable.
But this is the tough-as-teak individual whose theme song is "I Dreamed a Dream". Having advanced into her fifth decade before her gift was recognised, Susan is in no mood to slow down any time soon.
As she said: "The future? I would like to carry on performing and recording more albums and doing new things. I definitely want to include some more uptempo songs and even get involved in rock. Why not?
"When I did the tours in 2014, I performed River Deep Mountain High by Tina Turner and I absolutely loved singing that one. Everybody was up on their feet dancing and it is a great reaction to witness. So we'll have more of these – no doubt about it."
In these days of pre-rehearsed sound bites and processed platitudes, it's refreshing to encounter somebody like Susan Boyle. She is 100% authentic, completely free of artifice or pretension and her confreres in West Lothian testify to the fact that what you see is what you get.
Ultimately, her rise to prominence is not just a scripted story from the Hollywood annals. It's a bona fide real-life fairytale!