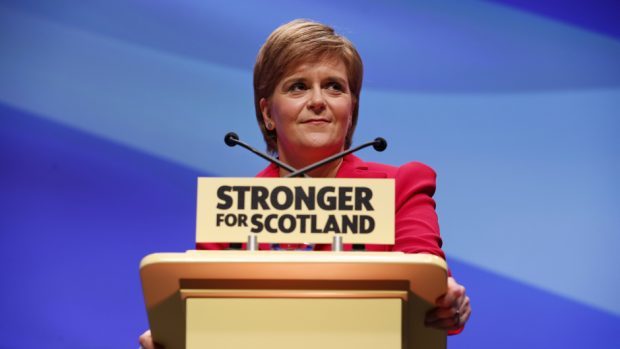 The SNP will today launch their general election manifesto, including plans to invest an additional £118billion in public services and create a bespoke Scottish immigration policy.
First Minister Nicola Sturgeon will present her party's proposals to activists in Perth this morning and will pledge to provide a "strong voice for Scotland at Westminster against Tory cuts".
Ms Sturgeon will say a vote for SNP MPs will strengthen her hand in Brexit negotiations and "protect Scotland's right to make its own decisions".
She will add: "If the SNP wins this election, it will strengthen the country's hand when it comes to opposing cuts, defending our place in Europe, and on choosing our future as a nation."
The manifesto includes plans to increasing the minimum wage to the same level as the "real living wage" over the term of the next parliament.
The current rate is set at £8.45 but is projected to rise to £10.60 per hour by 2022.
Ms Sturgeon will outline the pledge as part of a "clear anti-austerity agenda".
She will add: "Over the next parliament we believe we can see real change across the whole of the UK by moving from the Tories' fake living wage to ensuring that all workers receive the real living wage.
"Moving to the living wage would see wages increase to over £10 per hour by the end of the parliament.
"This is just one part of our vision for improving the lives of people in Scotland, tackling inequality and improving living standards."
The SNP will also pledge an additional £118billion to fund public services in Scotland, with SNP depute leader Angus Robertson saying today that the party would pay for the plan by increasing tax revenues by raising income tax to a new 50p rate.
Speaking to BBC Radio 4's Today programme, Mr Robertson said immigration remains "profoundly important" to Scotland's economy and said the SNP would look to create a new Scots immigration policy running alongside the UK model.
He added: "We want the opportunity for people to come and to go, and what we certainly don't want is a restrictive immigration policy imposed on us by Westminster which is going to damage our economy and our public services."
Tory leader Ruth Davidson is also expected to publish proposals today to improve school standards by 'resetting' the Curriculum for Excellence and will demand that the First Minister focus on "education, not separation".
She will say: "As long as the SNP bans on about independence, our schools will suffer."
Scottish Labour leader Kezia Dugdale will also put forward what she calls the SNP's "decade of failure" and will claim public services have suffered under the party.
"After ten years of the Nationalists obsessively campaigning for independence, Scotland's schools and hospitals have suffered under the SNP," she will say.