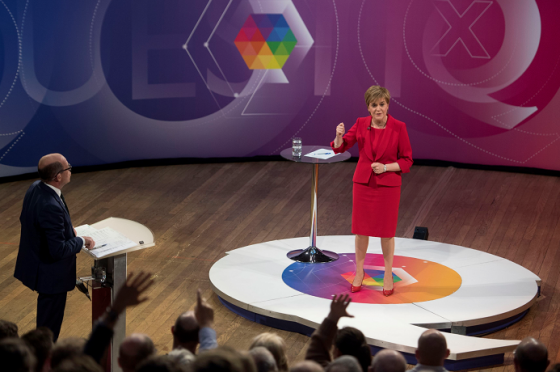 Nicola Sturgeon faced jeers last night after refusing to rule out a third referendum on Scottish independence within just a few years.
The First Minister was asked during a special edition of BBC Question Time whether she would guarantee the result of a second vote would binding for a set period of time.
However, Ms Sturgeon refused, saying it is not the place of a politician to "dictate to a country its future" despite claims from the studio audience that she is "losing a lot of votes from SNP supporters".
Pressed whether a vote could be binding for a period of 25-30 years, she said: "I don't think it's right for any politician to dictate to a country what its future should be.
"I think that should be a choice for the people of Scotland."
The SNP leader was then asked by a member of the audience whether she had miscalculated public opinion by calling for a second vote.
But she claimed voters must have "a choice" over an issue as significant as Brexit, adding that public opinion is often taken into account but "sometimes you have to be guided by principle".
The First Minister also fielded a number of difficult questions on devolved issues such as education and health, with one audience member asking: You said you want to be judged on education. So on that basis shouldn't you resign?"
Ms Stugeon said "we have to make sure we address the challenges we face" but added that she should not be judged on her record until the next Scottish Parliament elections in 2021.
Scottish Conservative MSP for the North East Ross Thomson said: "Once again, we've seen the First Minister taken to task on her party's dreadful record on education.
"She struggled once again to explain why, after ten years in government, standards in our schools have slipped so badly.
"The reason is that this SNP Government has spent ten years obsessing about independence."
Scottish Labour General Election campaign manager James Kelly said: "This was a tough night for the First Minister.
"No wonder Nicola Sturgeon spends so much time up in her helicopter, because when she comes into contact with the ordinary people of Scotland it becomes clear that the majority don't want another divisive independence referendum.
"It's time for Nicola Sturgeon to listen to the majority of Scots, who want her to get on with the day job of improving standards in our schools and hospitals instead of constantly trying to break up our country."