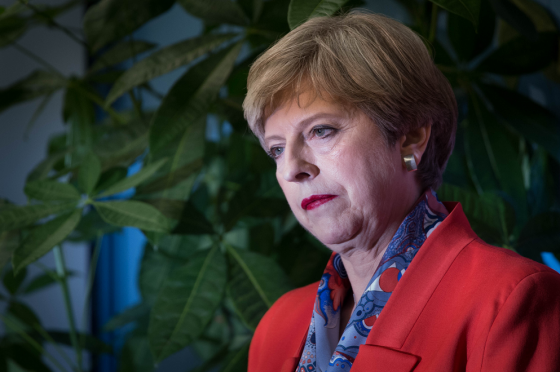 A defiant Theresa May vowed to form a minority Conservative government after her disastrous gamble on a snap general election ended in a hung parliament.
The prime minister showed no signs of stepping down yesterday despite calls for her resignation following her failure to win a Commons majority.
Instead she declared "let's get to work" for the "next five years", as she addressed the nation outside Downing Street having visited the Queen.
Lacking the 326 seats required to get over the line, Mrs May said the Tories would work closely with their Democratic Unionist "friends and allies", whose tally of 10 was enough to render them unexpected kingmakers.
Her language suggested this would be an informal confidence and supply agreement rather than an official coalition arrangement.
Later in the day, DUP leader Arlene Foster confirmed she had spoken to the prime minister.
But giving little away and in a sign she is prepared to fight hard for certain concessions in exchange for support, she added only: "We will enter discussions to explore how it may be possible to bring stability to our nation at this time of great challenge."
She had previously warned it would be difficult for the Tory leader to stay in Number 10.
Indicating her intention to press ahead with Brexit as planned, Mrs May said her administration would provide "certainty" and "lead Britain forward at this critical time".
She added: "What the country needs more than ever is certainty and having secured the largest number of votes and the greatest number of seats in the general election it is clear that only the Conservative and Unionist party has the legitimacy and ability to provide that.
"As we do, we will continue to work with our friends and allies in the Democratic Unionist party in particular.
"Our two parties have enjoyed a strong relationship over many years and this gives me the confidence to believe that we will be able to work together in the interests of the whole UK.
"This will allow us to come together as a country and channel our energies towards a successful Brexit deal that works for everyone in this country, securing a new partnership with the EU which guarantees our long-term prosperity.
"That's what people voted for last June, that's what we will deliver. Now let's get to work."
The prime minister also reiterated her pledge to crack down on the "ideology of Islamist extremism" in the aftermath of the Manchester and London attacks.
It was a dismal night for Mrs May who came under immediate pressure as it emerged the unnecessary gamble to boost her majority before the Brexit talks – due to start in 10 days time – had well and truly backfired.
Coming into the election, the Conservatives had a working majority of 17, but – far from tightening their grip on the Commons – they won 12 fewer seats than in 2015, although increased their vote share.
With the support of the Eurosceptic DUP, Mrs May will be able to govern, but she will be vulnerable to backbench rebellions which could seek to force a softer Brexit deal in partnership with MPs from other parties.
Meanwhile, both Jeremy Corbyn and Kezia Dugdale urged the prime minister – who only posed briefly for pictures as she and her husband Philip returned to Number 10 – to stand aside.
"We are ready to serve this country," declared the Labour leader whose party had won 261 seats with a final constituency still to announce its result, an increase of 29.
He said there would be no deals or pacts and mocked his rival's "strong and stable" mantra.
He added: "It doesn't look like a strong government, it doesn't look like a stable government, it doesn't look like a government that has any programme whatsoever."
Ms Dugdale said the prime minister was making a "grave mistake" in trying to form a government.
She also called on Nicola Sturgeon to shelve her plans for a second independence referendum, which Ruth Davidson proclaimed "dead" in the wake of the Scottish Tories' best result north of the border since 1983.
Unlike the Conservatives' poor performance in England and Wales, they exceeded expectations in Scotland to win 13 seats, up from a single constituency in 2015.
The SNP ended the night on 35 – a loss of 21 – but still comfortably emerged as the largest party.
A cautious Ms Sturgeon subsequently undertook to consider the outcome carefully and not rush into any decisions.
Labour and the Liberal Democrats won seven and four seats in Scotland respectively, both up from one last time.