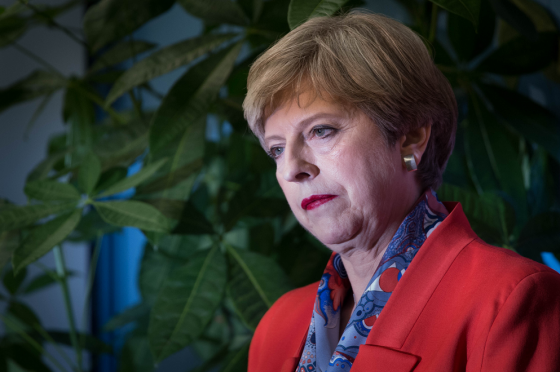 Britons face an uncertain future today after a dramatic night at the polls that culminated in a hung parliament.
The general election that need not have been was Theresa May's to lose and that's exactly what she did.
Her principal goal was to beef up her majority before the forthcoming Brexit negotiations and she failed.
While the Conservatives remain the largest party, they have gone backwards, letting David Cameron's 2015 majority slip through their fingers.
And yet Mrs May – dubbed the Queen of Denial – appeared to imply it would be business as usual outside Downing Street.
She later conceded it wasn't the hoped for result, however, adding: "I will reflect on what we need to do in the future to take the party forward."
Her plan is to work with the Democratic Unionists, although DUP leader Arlene Foster kept her cards close to her chest, confirming only that the pair had spoken and would enter discussions.
She will clearly be looking to get as much out of the prime minister as possible in exchange for support.
Her party favours a "soft" Brexit in order to prevent a return to border controls with the Republic of Ireland.
Even if some kind of arrangement is reached, it won't be plain sailing amid the prospect of backbench rebellions.
Because it wasn't just opponents that called for Mrs May to resign – some within her own party, like Anna Soubry, were also very vocal in their criticism.
Despite the Tory leader's confidence she can provide "certainty", the result does cast an element of doubt on the Brexit process.
As events played out, European leaders watched on with interest and concern from across the Channel.
European Council President Donald Tusk warned there was "no time to lose", adding: "Our shared responsibility and urgent task now is to conduct the negotiations on the UK's withdrawal from the European Union in the best possible spirit, securing the least disruptive outcome for our citizens, businesses and countries."
The triggering of Article 50 in March started the count-down on the two-year window to secure an exit deal and horsetrading is due to start in 10 days time.
Meanwhile, Brussels' chief negotiator Michel Barnier said talks would begin when the new UK government was ready.
Guy Verhofstadt, the European Parliament's Brexit co-ordinator, was less measured, however.
He called the episode "yet another own goal" that would make the "already complex negotiations even more complicated".
In other developments, Ukip leader Paul Nuttall stepped down after the pro-Brexit party's support collapsed, while Lib Dem leader Tim Farron did not, despite a disappointing night.
As the Conservatives suffered south of the border and in Wales at the hands of Jeremy Corbyn's Labour, the party had a magnificent night in Scotland.
In contrast, the SNP lost 21 seats, prompting unionists to declare a second independence referendum must now be taken off the table.