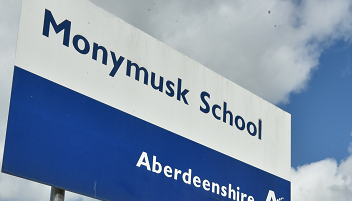 An Aberdeenshire primary school has been awarded a nationally recognised conservation prize for its efforts to protect the planet.
Monymusk primary school has created several initiatives which have helped it win a WWF Green Ambassador's award.
A nationwide search is underway in an attempt to find primary schools which are actively encouraging their students to take a stand on sustainability for the future.
The awards, which are supported by the players of the People's Postcode Lottery, aim to highlight the best examples of active suitability in schools.
There is hope that Monymusk's success will inspire others to follow in their footsteps.
Head teacher at the school, Gillian Watt, said: "We're absolutely thrilled what we're doing in Monymusk has been recognised by WWF.
"As a sustainable school, we look after our hens, guinea pigs and Jay our resident therapy dog, and have recently successfully hatched incubated eggs."
She added: "All of our pupils love the sustainable projects, including those who might sometimes find school a difficult place to be."
Cherry Dugan, the Head of Schools & Youth at WWF praised their efforts and said: "Monymusk School's long-term focus on sustainability is having a genuine impact.
"Within the school, they have vegetable patches and chickens: pupils work with the school cook on food waste; and they also learn about water through the River Don project."
The school will receive £1,000 prize money as well as an award plaque through the support of the Postcode Lottery.