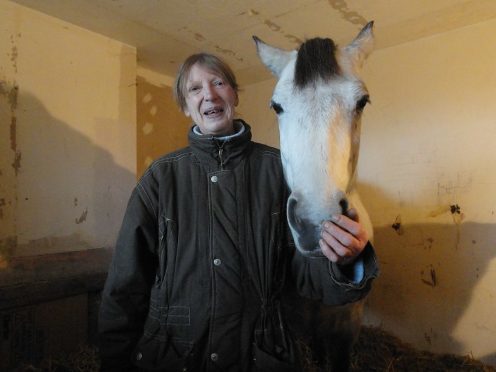 Council inspectors seized a horse living in its owner's front room just hours before a strategy to avoid it "from being lifted" could be implemented, a court heard yesterday.
Western Isles Council took away Stephanie Ann Noble's adult Connemara pony, called Grey Lady Too, in February 2014, claiming its living conditions for the previous two years in the front room of the ex-council house at Broadbay View, Back, in Lewis, were too cramped and broke government rules.
Though Ms Noble is still the official owner, the local authority is now paying thousands of pounds to look after it.
The council is embroiled in a long running court case to try and obtain legal ownership and sell the horse.
Giving evidence at Stornoway Sheriff Court yesterday Ms Noble said a friend had "agreed to buy" the pony.
She said she "knew the clock was ticking" regarding enforcement action.
And she added later: "I freely admit this was a temporary stopgap and she was willing to sell it back to me."
This was to prevent the pony from "being lifted" by the council, she added.
The two women finalised details two days before the council raid, Ms Noble said, but the buyer was coming on the Thursday to complete the sale.
However, two council animal welfare officers accompanied by expert horse handlers arrived at noon on the Thursday and took away the horse.
At the scene, Ms Noble told the officials it was "theft as the pony no longer belonged to me."
She denied making it up when challenged by Mr Mohammed.
Ms Noble said she acted for the pony's welfare when it was "dumped" in her front garden on Christmas Eve in 2011.
After forming a stable out of strong wooden partitioning from recycled fencing, she used a Liberal Democrat election sign and tape to seal off electric sockets which had the power isolated, laid down MDF sheets, a tarpaulin and specialist rubber matting to protect the floor, removed the living room door and padded the frame with lots of bubble wrap, she explained.
Ms Noble was adamant she met the government guidelines for housing the pony, pointing out she did not need special qualifications to understand the recommendations which were "not a law".
"If three fat ladies sat on an Italian sofa they would weigh far heavier" than the Connemara pony, she stressed when her counsel, advocate Stewart Buchanan, queried if the floor could bear the weight.
Ms Noble told the court she would build a shelter in her garden within two days if the horse was returned to her.
The case continues today.