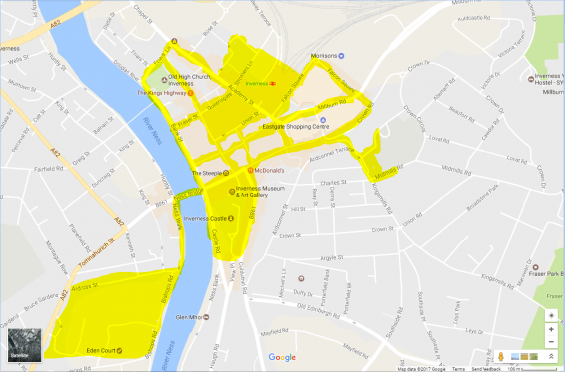 Free WiFi will be rolled out across Inverness city centre by the end of the summer.
The Ness WiFi service will be extended in the second phase of the Inverness City WiFi project.
It means the coverage will go as far as Eden Court and the Northern Meeting Park, and further northeast to the foot of Culduthel Road and half way along Midmills Road.
The first phase provided coverage for the Victorian Market, part of Church Street and Academy Street and Falcon Square.
Since it launched in February, an average of 500 people a week have been using the service.
And work is also underway to scope plans for bringing free WiFi to other towns across the Highlands, and further information is due in the autumn.
Provost of Inverness Helen Carmichael said: "It is wonderful to see this free service rolled out to benefit a much wider area in Inverness.
"Ness WiFi has already been very popular with visitors to the city centre in the first phase and this wider coverage will be enormously useful to businesses, residents, students and tourists.
"Fast and efficient internet access is essential to modern life and the initiative will truly make Inverness a 'digital city,' encouraging further visitors and businesses to the area."
Ness WiFi provides access to fast, efficient internet connectivity and is free for all users and is content filtered, with no restrictions on time.
The project is funded by the Inverness and Highland City-Region Deal and led by The Highland Council, in partnership with Rapier Systems Ltd.
To get connected visit www.nesswifi.co.uk
Mike Smith, chairman of Inverness BID, said: "The initial roll out has worked very well and I am delighted to see it will go to more areas.
"It's extremely important, particularly to visitors to the area and also to residents in the city centre.
"In this day and age it's very important that people have access to Internet and digital technology."