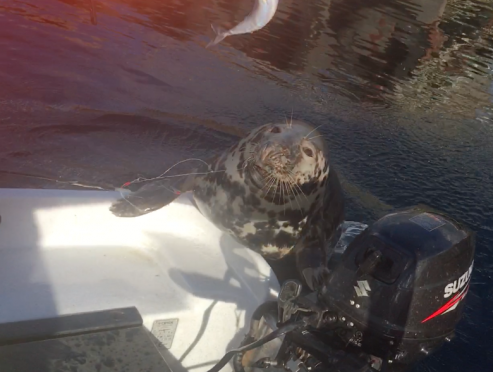 Hillswick Wildlife Sanctuary was on hand to rescue a seal which was caught up in fishing line at Toft pier in Shetland's north mainland earlier this week.
The sanctuary's Jan and Pete Bevington used an improvised cutting tool with a six-foot handle devised by a local fisherman to free the animal.
The call came in on Tuesday evening after Alan Henry, who had fed the seal for some years from his open boat, noticed the animal had hooks embedded in its lip and right front flipper.
The Bevingtons attended the scene on Wednesday after contacting the charity British Divers Marine Life Rescue for advice and approaching Brae fisherman Tom Jenkinson for help with a cutting tool.
Pete said: "I climbed into Alan's boat and while he distracted the seal by dangling a mackerel over the side, I used Tom's cutting tool to snip through the fishing line and after a few goes it was moving its flipper freely.
"We knew we could not get close to such a big seal to remove the hooks as it would have been far too dangerous, but the guys at British Divers said the hooks would just rust away in the sea and the salt water would heal any wounds.
"We were overjoyed to see the seal swimming freely and Alan heading off to sea to catch more fish with a smile on his face."
It was a busy week for the sanctuary, with an abandoned otter cub rescued from Skeld campsite on Monday evening.
The animal, which was named Rocky after the rock armouring where he was discovered, was said to be settling in well in Hillswick.
The sanctuary, meanwhile, is continuing with its fundraising drive as it approaches its target of 500 pledges of £5 a month to secure its long term future.
Last year, a seal pup was captured on film seeking shelter from a pod of killer whales by hiding beneath a boat.
Vivian Clark noticed three orcas circling around a patch of water off the coast of Eshaness in Shetland, and moved in to see if he could catch some of the fish they thought the orcas were hunting.
But, once he drew closer to the scene, they saw the aquatic hunters were actually surrounding a baby seal.