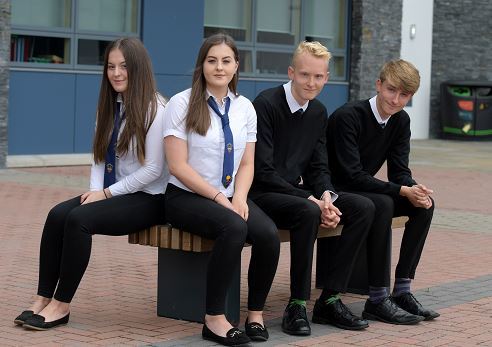 Thousands of school pupils in Aberdeenshire woke up to nervously to open their exam results yesterday including two sets of twins who were leaping for joy after earning a combined 20 As and 6 Bs.
Erin and Gracie Buchanan and Calum and Scott Cumming were among the thousands of pupils nervously awaiting their results, which overall in Aberdeenshire showed a rise in passes across each year group.
Thankfully, when the results arrived in Ellon, the students were delighted at their achievements.
The 16-year-olds, who are all at Ellon Community Campus, thanked their teachers for helping them achieve their results – while they all admitted their natural "sibling rivalry" had spurred them on while they were revising.
Erin Buchanan, who is aiming to stay on for sixth year, picked up five As and a B in her subjects said: "I was so pleased when I read the results, I have been quite nervous. I'm going to stay at school and do three advanced Highers – I'd like to study Law or Psychology, but I haven't really decided yet."
Twin sister Gracie Buchanan, earned six As and has gained a place at Aberdeen University to study Law with French, but is unsure if she will accept it, commenting: "I'm not 100% sure. I'm in two minds about what I want to do, but I cried with relief when I saw my results."
The sisters, who are from Foveran, said they're competitiveness had spurred each other on, but there were only good feelings about the results, Gracie Buchanan said: "We are going to have a family dinner to celebrate."
Brothers, Calum and Scott Cumming, from Newburgh, picked up 14 passes between them, with Calum gaining 6 As and 1 B and Scott scooping up 4 Bs and 3 As. Both will be returning to Ellon Academy for fifth year and Scott joked: "I'm a bit annoyed I didn't do better than him – but there's always next year."
The percentage of Aberdeenshire S4 pupils awarded five or more national 5 qualifications this year stands at 50%, a 2% rise on 2016. The percentage of S5 pupils gaining 5 of more Highers is 43%.
Councillor Gillian Owen, chairwoman of Aberdeenshire Council's education committee, said: "I'm delighted that the young folk have done so well – they are a credit to all their teachers and parents."
Head of Education for Aberdeenshire council, Vincent Doherty is equally delighted with the results and commented: "This is the third round we have seen a year-on-year increase – plus the 50% of fourth years gaining 5 or more National 5s is incredible.
"Given that we have had staffing issues during the year, an increase in attainment is fantastic."