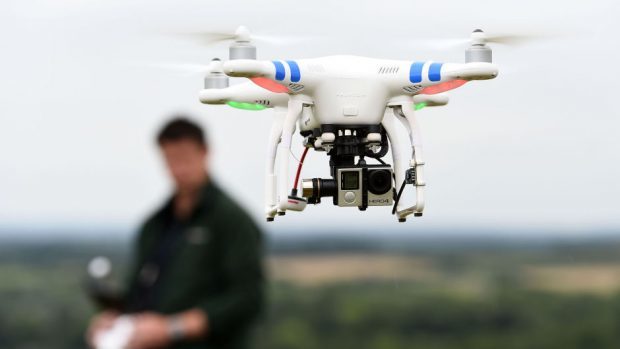 It was an episode that neatly summed up both the usefulness and the threat of drones: an amateur photographer in the Highlands inadvertently landing one on the deck of the Royal Navy's newest warship.
Footage from the tiny craft's touchdown on the £3billion HMS Queen Elizabeth while it was anchored in the Cromarty Firth stirred huge controversy about the increasingly-popular pastime.
And as the buzz of tiny airborne motors becomes increasingly common, there remain big question marks over how much amateur pilots really know about the rules of flying them.
Civil Aviation Authority (CAA) rules state that no camera-fitted aircraft can be flown within 50m (164ft) of buildings or people, or over congested areas or large gatherings such as concerts and sports events.
They also rule out altitudes of more than 400ft and insist that the drone must remain in sight of the pilot and away from airports.
The photographer who secured the footage of the giant naval vessel from his DJI Phantom drone was a member of the Black Isle Images amateur photography group.
"Our only intent was to share with you all some very interesting pictures and videos of a ship we thought we would never see again," it read.
"It is our opinion that accidentally we have highlighted a gaping hole in the security of the vessel.
"We did not post anything to embarrass anyone but, in doing so, hopefully security will be tightened and the whole issue will blow over.
"There are some drone pilots who are angry because they believe it will make drone regulations tighter. Well, we believe that those regulations should be tighter.
"There is no way we should have been able to do what we did. We did seek out the security of the ship and informed them and gave them our details."
Moves to tighten rules on drones have in fact gathered pace in recent months amid fears over security and risks to commercial aircraft.
More than 20 incidents involving commercial airliners and possible drones were investigated by the Civil Aviation Authority's Airprox Board in the first four months of this year.
In one case last October, it found that a drone flew within 20m of an Airbus A320 on its approach to Heathrow Airport.
Investigators concluded that the drone had got so close to the passenger jet that "providence had played a major part in the aircraft not colliding".
They also noted that the "blue and disc-like" craft appeared to be custom-made, rather than a commercially available model.
The UK Government has proposed a requirement to register a drone which weighs more than 250 grammes, but legislation will need to be enacted to make this law.
The move follows research which showed strikes by drones of more than 400g could critically damage helicopter windscreens, while a bigger drone of about 2kg could critically harm airliner windscreens at higher speeds.
Pilots have also demanded tests on the possible effects of a drone being sucked into an engine, similar to the event of a bird strike.
However, pilots believe drones, which carry lithium batteries, would have more serious consequences.
A spokesman for the UK Civil Aviation Authority said: "Anyone operating a drone must do so responsibly and observe all relevant rules and regulations.
"It is totally unacceptable to fly drones close to airports or aircraft, for example, and anyone flouting the rules can face severe penalties including imprisonment.
"Our dronecode provides advice on how to fly a drone safely and to follow the rules at all times.
"Drone users have to understand that the UK has one of the busiest areas of airspace in the world, a complex system that brings together all manner of aircraft including passenger aeroplanes, military jets, helicopters, gliders and light aircraft."
Simon Walker, Aberdeen Airport air traffic control manager, said that so far he has not encountered any issues with amateur drone pilots at the airport.
He added: "We are obviously aware that more and more (drones) are being sold so there is always the potential.
"We have standard rules for drones working in and around the airport and we work within the regulations.
"We work very closely with drone operators (commercial) who work near the airport to keep airport operations safe."
Mr Walker also highlighted the importance of downloading an app, Drone Assist, produced by NATS, the UK's leading air traffic controller, which can be found on the website dronesafe.uk
It presents users with an interactive map of airspace used by commercial air traffic to see areas to avoid or in which extreme caution should be exercised, as well as ground hazards that may pose safety, security or privacy risks when flying a drone.
The app also contains a Fly Now feature that enables you to share your drone flight location with other app users and the wider drone community, helping to reduce the risk of a drone related incident in the UK's airspace.
Press and Journal photographer Kenny Elrick was put through a course which enabled him to become a commercial drone pilot.
Before taking a theory test he underwent a three-day course reading up on the flight rules and regulations, how drones physically work and reading weather maps.
Two hours of flight time was needed before a practical test which involved demonstrating maneouvres such as figure-of-eights, flying at specific heights and spinning the small aircraft and flying it back from the opposite side of a field. He said: "It's about showing you have control and an ability to keep an eye on the drone."
The course for a commercial licence costs in the region of £1,500 but, when taking insurance into account, works out in excess of £2,000.
He said: "The people doing it legitimately and going through the process are having to pay more money to register than the people who buy it and fly it straight from the shop." Mr Elrick stressed that flying non-commercially also means sticking to the rules.
He feels that the greatest risk is posed by people who buy a drone from a shop then fly it straight away in close environments such as gardens and parks. He said he has seen "one or two" people flying drones and breaking the rules, in and around the Aberdeen area.
He added: "I feel the shops selling them need to take full responsibility. You can go into a gadget shop and buy one and that's you.
"Some sort of restriction before you leave the store might be an idea. Or when you load up the app on your phone or tablet device to fly the drone, there should be something to verify that you've registered."
Mr Elrick said that permission is also needed from the owner of the land if you take off or land on their property.
Flying over someone's property is more of a grey area. Currently, the rights of a property owner are restricted in relation to the airspace above his or her land to such a height as is necessary for the ordinary use and enjoyment of his land.
It means you can fly in the airspace over their land as long as you do not cause a nuisance, infringe their privacy or interfere with their "ordinary use and enjoyment of the land."
Critics have also called for tougher rules over drone use to prevent scaring livestock, while some have felt the impact of their buzzing noise and safety impact of drones on local tourism.
In late 2015, signs were erected at Dunnottar Castle near Stonehaven to warn off irresponsible drone usage following complaints from visitors to the north-east landmark. The signs say that inappropriate flying of drones will be reported to the CAA.
Dunnotar Castle custodian Jim Wands said that people are adhering to the signs and heeding advice on their website to fly outwith the castle's opening hours. Mr Wands said: "We love seeing footage of the castle from drones but encourage people to fly them outwith our opening hours when members of the public are not around.
"A lot of people e-mail us to ask when the best time is to come and fly them. And, often, the best time for footage or aerial pictures is at sunrise or sunset when it's more dramatic.
"Some people just turn up but we explain to them that it annoys other people, but the vast majority ask ahead and are sensible about it.
"A lot of the people we speak to are aware of how close they can be to do it. We will maybe get one drone user every couple of weeks.
"Asking people to register their use of a drone is maybe a good idea as it will make people think that they are not just toys and are something potentially dangerous."