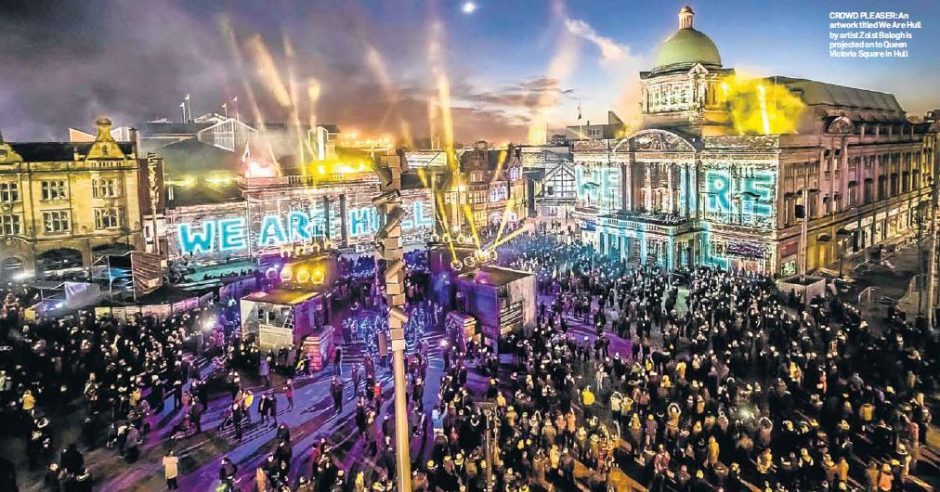 He is a leading figure in Hull's renaissance as this year's UK City of Culture and Mark Jones has one important tip for politicians hoping to secure a similar boost: stay united.
As ports battling to adapt to new realities and fed up with being ignored by bigger conurbations he sees marked parallels between his Yorkshire home and Aberdeen, whose leaders recently announced a fresh bid to win the coveted city honour for 2025.
A previous effort four years ago failed to impress the judges and the prize was awarded to Hull.
And, from the latter's perspective, the benefits have manifested themselves since the English shipping port created a wide range of eclectic activities, business initiatives, artistic endeavours and other themed events from January onwards.
There is no doubting the impetus and incentives which this accolade can offer.
Mr Jones is director of regeneration in Hull, where 90% of people have sampled the cultural activities, museums and galleries received half a million visitors in four months and hotel occupancy is up almost 14%.
Hull Trains reported a 17% rise in passengers in January and since winning the UK City of Culture title, the city has confirmed the creation of scores of new businesses.
But days after the Granite City's leaders declared their intent to host the 2025 events, he stressed that success would require rivalries being put aside in the interests of the whole population.
"We wanted to boost the whole city, rather than any one political party," he told the Press and Journal.
"So we set up an arm's-length body which has so far ensured everybody is pulling together."
Like Aberdeen, Hull has suffered rejection in the past in the race for the coveted title.
"We knew we had to avoid the sort of damaging party political rows which have hit these campaigns in other places such as Liverpool and Glasgow – and now, eight months into our year as City of Culture, we have gained significant funding from the private sector and the Department of Culture, Media and Sport, who don't normally like giving money to councils," Mr Jones said.
Hull had felt it was "this north-east community being ignored by the bigger cities elsewhere, such as Leeds and Sheffield", Mr Jones remembered – an emotion with powerful Scottish echoes.
"But we pulled together, formed a City of Culture programme which is run by an independent organisation, and the benefits are clear to see.
"Unemployment here was 17% in 2009. Now, it's 6%. We have also created scores of new businesses and hundreds of new jobs and people in Hull are walking around with their shoulders an inch taller.
"If we can do that, I don't see any reason why Aberdeen can't put together a very strong bid for 2025."
Councillor Stephen Brady, the leader of Hull City Council, said: "It's wonderful to see the difference which becoming the UK City of Culture has made to us and how residents and visitors alike are responding to the amazing arts and culture which we have seen across the whole city."
Those mulling Aberdeen's approach from the townhouse can also look closer to home for inspiration.
Morgan Spence has the youthful energy and ebullience which combines the animation skills of Nick Park with the "wow" factor of Hampden Park on a winning night for Scotland.
So, perhaps it's hardly surprising the 17-year-old is one of the bright sparks behind Paisley's campaign to become the 2021 UK City of Culture.
As a film-maker, adroit at transforming Lego bricks into little works of art, Morgan produced a new work earlier this year which featured a series of famous names and places from Paisley's history and heritage, including Paolo Nutini, David Tennant and the central belt community's iconic town hall.
It doesn't matter that, in a technical sense, the Renfrewshire locale isn't a city at all; it qualifies for the coveted honour under the rules of the competition which state the winning candidate can be any settlement with a "clear, central urban focus."
And, as Scotland's largest town – with a population of just over 75,000 – Paisley is now flying the Saltire for 2021 against Coventry, Stoke, Sunderland and Swansea in the run-off after the original list of 11 candidates was whittled down to just five, in advance of December's final vote.
Morgan is among those excited by the prospect of the benefits which becoming the City of Culture can deliver.
As he told the Press and Journal yesterday: "Paisley has so much to offer, from its global weaving heritage to its stunning architecture and the icons it has produced over the years, including the likes of David Tennant, John Byrne and Gerard Butler.
"After being shortlisted in the final five, there is a real sense of excitement about the opportunities which being named [as the winner] would bring.
"It's a chance to showcase to a huge audience what our town means to us and what it has given the world. I am delighted to have played a small part in the process of enhancing Paisley's bid through the Lego animation which I launched earlier this year."
All of this explains why Paisley is buzzing at the moment and why there is so much enthusiasm for their bid from residents, young and old, with particular emphasis placed on the former.
The Press and Journal caught up with 2021 bid director, Jean Cameron, this week and she explained how Paisley was planning to move forward in the weeks and months ahead.
She said: "Paisley's bid for the 2021 title is part of a wider effort to use the town's unique cultural and heritage story to transform its future.
"We are thrilled to have made the final shortlist and, as the only Scottish place left, Paisley's bid is now Scotland's bid.
"Should we win, the benefits of our 2021 year will be felt nationwide and we want to use the next few months to build partnerships across the country which will help us get there.
"The process of bidding has already been brilliant for us – raising awareness of what Paisley gave the world, while addressing negative perceptions of the town and bringing a new sense of self-confidence to residents.
"Winning the title will take our existing regeneration plans to new levels, bringing a massive economic boost, with thousands of new jobs, major infrastructure investment, and a lasting legacy of a new visitor economy.
"The bid to date has been a town-wide effort, featuring a great partnership of local cultural, business, educational and public sector groups – but the success we have had so far is down to the people of Paisley.
"More than 30,000 people – almost equivalent to half the town – joined the conversation which centred around the initial bid, with every primary school child in Renfrewshire invited to submit ideas."
As Hull basks in the spotlight, another city is still enjoying the warm afterglow.
Oonagh McGillion is director of legacy with Derry City and Strabane District Council in Northern Ireland. She said: "The hosting of the inaugural UK City of Culture in 2013 was life-changing for our citizens.
"It not only gave us a real sense of pride and achievement, but instilled new confidence and aspirations for the entire community.
"It was also place-changing in terms of investment in regeneration and the local environment and was hugely successful in uniting our communities to share and celebrate their experiences.
"We believe that our city is still in the early stages of its development and the economic legacy projected will be realised over a 10-year period.
"Recently, we launched details of our joint bid with Belfast to bid for the European Capital of Culture for 2023 and this would be a significant legacy project, not only for Derry and Belfast, but for the whole of Northern Ireland."
Plenty of work remains to be carried out, and there is no sense of anybody resting on their laurels.
After all, Paisley and the other contenders from England and Wales are all former industrial powerhouses, which have been badly affected by steady decline during the last 30 or 40 years. That makes the economic benefits of the culture prize almost incalculable, although it has been estimated that Hull has already been boosted by between £50million and £60million in 2017.
In terms of lessons Aberdeen could learn from what has happened elsewhere, Hull Maritime Museum and Ferens Art Gallery have both enjoyed year-on-year visitor increases of 500%.
A pivotal part of this success – one which has underpinned the Paisley campaign – has been a commitment to reach out to the whole community in search of a mass engagement.
Some people felt this was lacking when Aberdeen submitted its bid in 2013. But while it is drawing up a fresh bid, it seems Inverness is concentrating on other matters.
A Highland Council spokesman said: "Our current efforts are heavily focussed on the Inverness and Highland City-Region Deal which has a commitment of £315million worth of funding – £135million from the Scottish Government, supported by £127million from The Highland Council and its partners, and another £53million from the UK Government.
"The vision behind the Inverness and Highland City-Region Deal is to position Inverness and the Highlands as a region of digital opportunity."
There is no doubt the bid campaigns consume a considerable amount of time and expense.
But Hull appears to be proving – and Paisley aims to follow suit – the rewards are worth the initial investment.
Jean Cameron concluded with the message: "We wish Aberdeen all the best with their bid to be UK City of Culture in 2025.
"Taking part in this competition has already been incredibly positive for Paisley and it will be for Aberdeen too."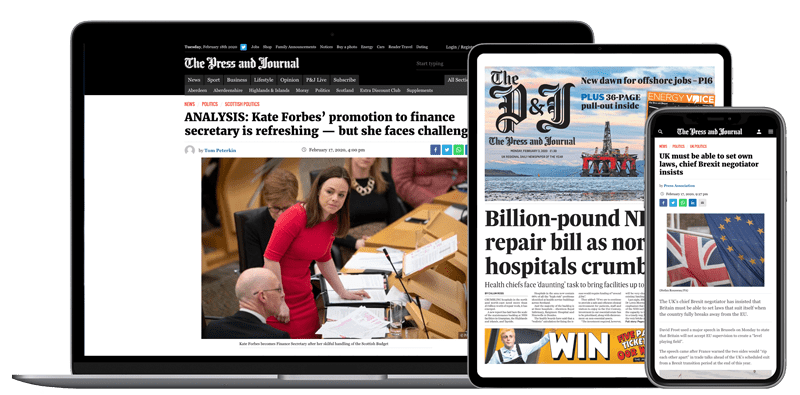 Help support quality local journalism … become a digital subscriber to The Press and Journal
For as little as £5.99 a month you can access all of our content, including Premium articles.
Subscribe