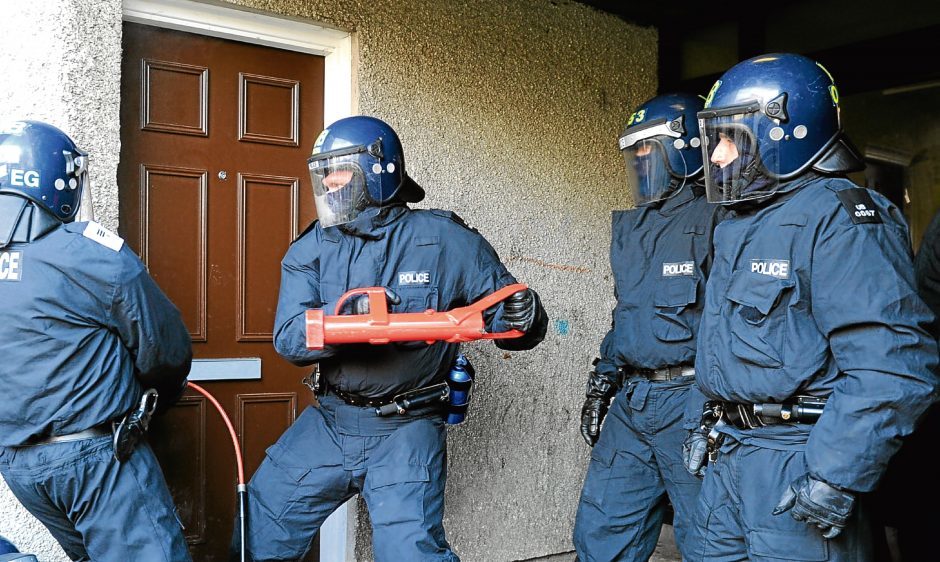 As heroin entered Mark's* bloodstream he knew he had made a catastrophic mistake, but in that moment it seemed the only way to escape the monotony of life behind bars.
It is perhaps inconceivable to think that Mark could access a highly addictive class A drug while serving his third prison sentence, but he believes up to 80% of heroin users begin their addiction in jail.
He claims that the smuggling of drugs into prison is commonplace, and admits he was naïve to believe that heroin would not be the start of a downward spiral.
By the time Mark was released he was addicted, and his habit would go on to cost him his long term relationship and access to his three young daughters.
Indeed, it is only the thought of never seeing his children again that motivated Mark to come clean – but it took six years to break the habit, so deadly was heroin's grip.
Although shocking, Mark's story is not unusual and drug charities throughout the Highlands and islands have raised concerns for the next generation, and also noted a demand for their services.
Meanwhile in Aberdeen, charities are seeing an increase in people coming forward to seek help, and a special initiative has even been set up to help save lives in the case of an overdose.
Massive drug hauls have been seized in 34 raids across Moray in a recent police crackdown, while 44 raids took place in the Highlands and islands in just one week.
Cocaine, heroin and diazepam worth £20,000 has been taken off the streets, while 17 drug hauls alone were made in Inverness.
Mark currently works for Inverness-based charity For the Right Reasons, and he credits the organisation with helping him to turn his life around.
The charity helps people with drug and alcohol addiction and employs two drug support workers and there are also 12 volunteers.
"It was so easy to access drugs while in prison. I had already served two previous sentences so I knew how everything worked," said Mark.
"It was seen as better to take heroin over diazepam or hash because it doesn't stay in your system as long.
"There was always the risk that you'd be caught with drugs in your system, meaning there would be no chance of getting out early.
"Heroin seemed like an easy option when I was having a bad day. I thought I'd only take it a few times at the most but heroin gets you.
"I'd never touched the stuff before I was 30 and I knew within seconds of taking it that I had made a blunder.
"I would say 80% of heroin addictions start in prison and if you're serving a long-term sentence, it's almost inevitable that you'll get hooked.
"When I came out of prison I couldn't get a job, I ended up mixing with a bad crowd and I must have been taking heroin for about a year in total.
"It doesn't sound like a long time but it nearly destroyed me.
"At my worst my weight dropped to eight stone, and I split up with my partner of 13 years.
"I lost all access to my three girls and I think that was a wake-up call for me, an incentive to come clean.
"It took about six years in total but now I'm on the lowest dose of methadone and I see my children quite regularly.
"My story isn't unique but I couldn't have got this far without help.
"For The Right Reasons made me want to get up in the morning again, coming off heroin isn't something you can do on your own."
Mark's recovery is just one example of why Richard Burkitt, project manager for the charity, has been battling on with his work for the past 17 years.
He is not surprised by the number of drugs raids and worries for teenagers living in the Highlands.
"We're based in Merkinch which is one of the most poverty stricken areas in Scotland, and while legal highs were prevalent for a while – we can't afford to take our eye off the main ball which is heroin," said Richard.
"Heroin is a poor person's drug because you can buy it for £10 a bag. it has become even cheaper in recent months whereas the middle classes tend to take cocaine.
"We are currently in contact with about 60 addicts and it's possible to turn your life around – we work intensely with about 10 people.
"By the time people come to us, their lives have been completely destroyed by drugs and they need a reason to live again.
"I fear for every single teenager coming out of school and even those who are just entering adolescence.
"Many of our addicts believe there are not enough resources available to prevent the sheer volume of drugs passing through the Highlands, there are not enough officers on the ground and drug dealers take advantage of isolated areas.
"Taking heroin is akin to suicide and I can't see an end to the problem."
Detective Chief Inspector Michael Sutherland has urged people to continue to come forward with information on drugs.
"Our ability to take action against the trade in controlled drugs is dependent upon the intelligence we have," he said. "In recent weeks we have been able to take a considerable amount of drugs off the streets of the Highlands and the islands and that is to a considerable extent down to information we have received from the public.
"Our communities have made it very clear that they do not tolerate controlled drugs and we are always very grateful for their support.
"Where we receive good intelligence we will always take action, whether that is stopping a vehicle or searching a property.
"We are completely committed to that and will always put resources towards targeting the trade and supply of illegal drugs in order to get them off our streets.
"Anyone who can help our ongoing efforts to take illegal drugs off the streets should contact us on 101 or call Crimestoppers anonymously on 0800 555 111."
Drugs are not limited to the mainland and eight raids were carried out in Shetland, with drugs also recovered in Orkney.
OACAS, which is Orkney's local counselling service specialising in alcohol and drugs counselling, fears that a combination of sheer demand and lack of funding could lead to people not receiving help quick enough.
Staff have also noticed a divide between the young and unemployed who have become hooked on drugs, in comparison to working professionals who attempt to manage their habit alongside a busy career.
Simon Gordon, who was previously a solicitor before becoming manager of OACAS, believes drugs are too readily available on the island.
"Until recently there was a real problem with legal highs, but that's not such an issue anymore thanks to new legislation," he said.
"Now we're seeing a lot more problems with cannabis and cocaine, clearly dealers have spotted a gap in the market.
"We are already overstretched and now we're struggling to offer urgent appointments, it can take a few weeks for someone to get seen and anything could happen in the interim.
"Half of our referrals are self-referrals which is encouraging and we're seeing quite a range of people.
"There's the unemployed and then there's the working professional person, maybe holding down a high-powered job with the council then having a blast with recreational drugs at the weekend.
"It's scary when you think about it but there is very much a problem here."
For Alcohol & Drugs Action (ADA) which runs various services in Aberdeenshire, including a needle exchange and drop-in services, there is a practical focus on decreasing the number of drug-related deaths.
A spokeswoman for the charity said: "What we are seeing at Alcohol & Drugs Action are more people coming forward for help to address problems with alcohol, with the numbers using opiates remaining at the same level for the past few years.
"We are also seeing many long-term drug users who are mixing opiates such as heroin with other substances such as alcohol and Valium. Mixing drugs in this way greatly increases the risk of overdose and is sadly evident in the drug death statistics.
We are working hard at Alcohol & Drugs Action to educate and advise long-term users about the risks of overdose. We have also developed a range of activities to help engage them with support and have a team of recovery volunteers, people who have previously had problems with drugs themselves, who are now available to inspire and help people at risk connect with supports.
We also provide Naloxone kits to drug users, their families and friends through our Direct Access service which is open seven days a week in Aberdeen with outreach locations across Aberdeen and Aberdeenshire. This is a medicine which can be used to temporarily restore breathing in an overdose situation and is saving lives.
The charity will also be marking International Overdose Awareness Day on August 31 at its base in Hadden Sreet, Aberdeen, and will remember those who have died from a drugs overdose.
For details of services, contact the ADA helpline on 01224 594700 or go to the website www.alcoholanddrugs action.org.uk