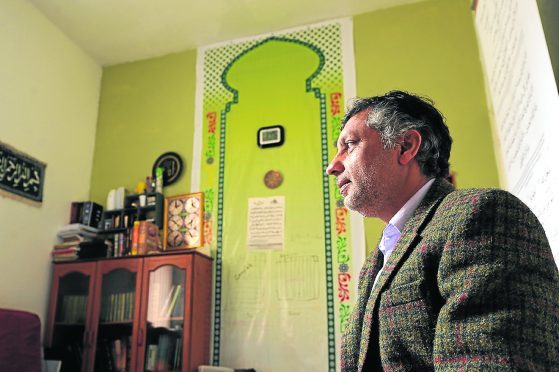 Alcohol and the internet can make for a potentially lethal cocktail, judging by the experience of an ex-soldier who ended up threatening to murder non believers.
A court heard on Tuesday that Alexander Tiffin, now living in Invergordon, became radicalised and sent texts to friends inciting violence.
Former soldier sparks major terror alert with 'killing unbelievers' text
The recent convert to Islam caused a terror alert of his own – five days after the London Bridge attack in June that left eight people dead and 48 injured.
Muslim leaders in the north who know him have were saddened by his actions but have now offered to counsel him after his guilty plea.
Inverness Mosque founder Dr Waheed Khan revealed to the Press and Journal that Tiffin had written to him last October, introducing himself and seeking guidance on how to convert to Islam.
Tiffin stated in the letter that he suffered from Functional Neurological Disorder, a condition in which patients experience neurological symptoms such as weakness, movement disorders, sensory symptoms and blackouts.
Dr Khan said: "Our imam Ibraheem met him frequently. Alex came to the mosque in his wheelchair,, joined the community, was welcomed and developed a fairly good relationship with everyone.
"In spite of his disabilities and travelling distance, he frequently visited the mosque, joined in the table tennis sessions and other regular activities."
He said Tiffin's medical condition "improved – and he stopped using the wheelchair."
Dr Khan described him as "a good and quick learner who was guided gradually – and advised how to get best of Islamic resources, especially from social media and the internet."
But he also showed signs of a "complex" mental state that featured significant mood swings, according to the doctor.
Dr Khan told the P&J: "I'm unaware of any knowledge that he ever talked about the radical groups or any links to any such groups."
Questions remain unanswered involving an incident Tiffin experienced on his return from his trip to Turkey.
"He was particularly upset at his treatment by the border control agencies at Glasgow Airport," Dr Khan said.
"We're very glad that, after a very thorough police investigation, no links to any groups are identified.
"We'll be very supportive of his long term rehabilitation, especially in view of his medical condition and added stress brought on by this court case."
In the wake of the legal action, Dr Khan voiced concern for Tiffin's own safety, amid reports that his Invergordon home had been "targeted" by vigilantes.
Dr Khan expressed his shock and sadness two years ago after the revelation that a youngster living in Inverness was on the brink of being indoctrinated by terrorists.
On that occasion, the unidentified 18-year-old had been led stray while studying English in London.
He returned to the family fold in Inverness after the intervention of police and local Muslim leaders, averting a need for criminal proceedings.
The teenager's relatives had raised the alarm after spotting the signs.
While instances in Scotland have been rare, more than 1,000 Britons have joined the Syrian civil war, many from towns with no previously known links to Islamic extremism.
Scotland's former counter-terrorism chief John Cuddihy is urging communities across the north to join a national debate to protect youngsters from radicalisation and brainwashing.
He is optimistic an international effort to tackle extremism will protect vulnerable youngsters.
Having retired a few years ago after a 30-year police career, the former detective chief superintendent now dedicates much of his time to  a global security mission to target radicalisation at its source.
He led investigations into the 2007 Glasgow Airport terror attack in which a jeep loaded with propane canisters was driven into the doors of the terminal and set ablaze – and the inquiry into former Aberdeen school pupil Abdul Rakib Amin's radicalisation by the so-called Islamic State terror group.
Mr Cuddihy has been at the forefront of a pilot project of online mentoring for vulnerable youngsters at risk of being exploited.
It is focused on tackling exploitation in two areas – extreme right-wing factions and extremist Islamist ideology.
Troubled youngsters will be able to join a chatroom, anonymously, via their smartphone for counselling prior to one-to-one peer mentoring to build trust.
As a security consultant and visiting fellow of the Centre for Trust, Peace and Social Relations at Coventry University, Mr Cuddihy works with individuals and governments facing "societal conflict" and uses his knowledge to help the charity Action for Children to protect youngsters from all forms of exploitation. In the wake of this week's Inverness court case, he said: "In the current climate, we should be encouraging communities to come forward with information where they consider someone may be vulnerable to exposure and exploitation.
"That's not to say that communities should determine if someone is a terrorist, rather those who are vulnerable and are acting out of that which would be expected to be 'normal'.
"As part of (the Bratislava Global Security Forum) Globsec, we've advocated greater information exchange between countries, agencies and communities.
"When you consider many of the recent attacks across Europe, there's been a distinct lack of information sharing.
"Over the last few days, Ron Wainright, the director of Europol, has called for enhanced information exchange in the fight against terrorism."